Zimbabwe Safari IS5B
5 Nights in luxury accommodation Victoria Falls & Zambezi National Park
2 Nights Zambezi National Park, Imbabala Safari Camp
1 Nights Upper Zambezi Canoe Safari, Zambezi River
2 Night Victoria Falls, Elephant Camp
6 Days / 5 Nights
Reference: IS-5B
Starts Victoria Falls Airport / Ends Victoria Falls Airport




Safari Overview
This package offers luxury accommodation and great game viewing at Imbabala Safari Lodge just 80kms from the Victoria Falls. Then a fully backed-up canoe safari takes you down the Zambezi River and you camp in style in the national park for two nights. The last night is spent at the award winning Elephant Camp, situated overlooking the Zambezi gorges just 10kms from Victoria Falls - an excellent way to end your trip. This very popular package combines an exciting river activity, good game viewing opportunities with two of the best safari lodges around.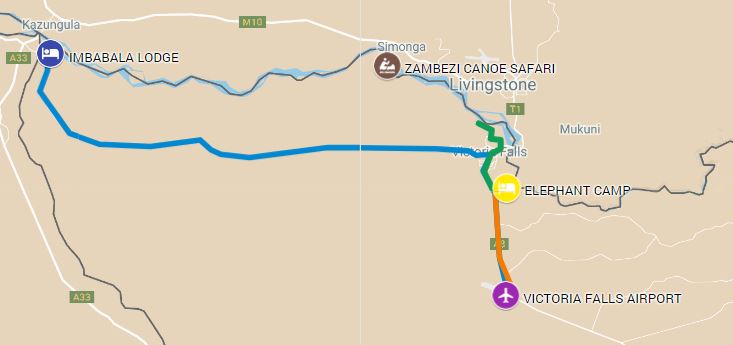 Zimbabwe Safari IS5B Inspired Journey Overview
Accommodation
Nights 1 & 2 - Thatched room at Imbabala Safari Camp
Nights 3 & 4 - Riverside tent during Zambezi Canoe Safari
Night 5 - Luxury tented suite at Elephant Camp
Transfers Included
Day 1 - Road Transfer: Victoria Falls Airport to Imbabala Safari Lodge
Day 3 - Road Transfer: Imbabala Safari Lodge to Zambezi Canoe Safari
Day 5 - Road Transfer: Zambezi Canoe Safari to Elephant Camp
Day 6 - Road Transfer: Elephant Camp to Victoria Falls Airport
Highlights
Imbabala on the banks of the Zambezi offers comfort, good game viewing and river cruises
Overnight Canoe trip and camp in large comfortable walk-in tents on the banks of the Zambezi river, the camp is fully backed up by a team of staff that set up camp in preparation for client's arrival.
Canoe quietly through the myriad of beautiful channels on the upper Zambezi river with outstanding bird and wildlife. In places there is a little bit of white water to add to the adventure.
View the spectacular and mighty Victoria Falls
Elephant interaction on the Wild Horizon's estate
---
Notes: Day 1 & 2
DAY 1
You will be greeted at Victoria Falls Airport and transferred by vehicle to Imbabala Zambezi Safari Lodge. Situated 80kms upstream of Victoria Falls close to the Botswana border and right on the Zambezi River. Arriving late in the afternoon you might still have time to do an afternoon boat cruise if your wish. Overnight at Imbabala Safari Lodge on a full board basis including scheduled activities.
DAY 2
A game drive in the early morning is followed by brunch at the lodge overlooking the Zambezi. Midday is hot and a time to relax and do your own thing. Early afternoon and high tea is served followed by a river safari on the mighty Zambezi. Overnight at Imbabala on a full board basis including scheduled activities.
Zambezi National Park
Zambezi National Park together with Victoria Falls National Park cover an area of 56,000 hectares. The northern border of the Park is formed by the great Zambezi River which also forms the border between Zimbabwe and Zambia for much of its length. A wide variety of larger mammals may be found within the Zambezi National Park including elephant, lion, buffalo and leopard. In addition, herds of sable antelope, eland, zebra, giraffe, kudu, waterbuck and impala as well as many of the smaller species of game can be viewed. The Zambezi River is home to over is 75 species of fish and is famous for its bream and fighting tiger fish.
Overnight: Imbabala Zambezi Safari Lodge
Imbabala Zambezi Safari Lodge is situated on a riverine fringe of the mighty Zambezi River where Zimbabwe, Botswana, Zambia and Namibia converge. Imbabala offers the chance to unwind but also some of the most amazing game viewing and bird watching in the region, in the seclusion of a private National Parks concession. The 5,000-acre concession has 14 kilometres of private Zambezi river frontage and borders the Chobe Forest Reserve, which is renowned for its massive Elephant population.
Imbabala offers exclusive accommodation for only 20 guests in 9 individual thatch lodges with en-suite facilities. Experienced guides are on hand for all activities. Exploring the Zambezi River by boat affords guests an exclusive river experience. Game drives in the private concession area are popular and often provide fantastic game sightings including lion, painted dog, elephant, giraffe and kudu. The area has approximately 420 bird species sighted making it an exciting venue for birders.
Imbabala is located 80 kilometres west of Victoria Falls, access is by transfer from Victoria Falls, Livingstone or Kasane.
Activities at Imbabala
Game drives (Morning, Afternoon & Night)
Experienced guides are on hand for all activities. These centre around tracking game on morning, afternoon and night game drives in open 4x4 safari vehicles on the Imbabala Private Concession Area.
River Safaris
Exploring the Zambezi River by boat affords guests an exclusive river experience. Bird-watching is exceptional, as birdlife is prolific and varied, ranging from water birds to shy forest dwellers.
Spa Treatments
Selected Spa Treatments are available at an additional charge
Optional Extra Activities
Walking Safaris and fishing excursions for the renowned Tiger Fish, are available by prior arrangement, and at an extra charge
---
Notes: Day 3 & 4
DAY 3
Final morning at Imbabala, you get another chance of an early morning game drive followed by brunch at the Lodge. You will then be collected by a Wild Horizons vehicle and taken on a game drive through the Zambezi National Park arriving at the riverside camp to start your Upper Zambezi Canoeing Safari. After a thorough briefing by your qualified river guide, which will include river conditions and rapids, safety, general information and basics on how to canoe, you will be asked to sign an indemnity form. The canoes are actually inflatable kayaks and are very stable and easy to manoeuvre. The rest of the afternoon is spent canoeing the Zambezi River. Overnight camping on the banks of the Zambezi River (meals, limited drinks and camping equipment included).
DAY 4
A full English breakfast is served before an hour game drive upstream takes you to your put in point. Today you will canoe for approximately 18kms downstream. This is a stunning stretch of the river and you get to explore many quiet channels, watch animals on the river bank and do some fantastic bird watching. In most places the river current will carry you downstream you just need to steer. You will encounter some small grade one and two rapids which include the Sansimba rapids. The size of these rapids will depend on the time of year you travel (check with us). The inflatable kayaks cope with these small rapids very well, but you are likely to get a little bit wet. A picnic lunch is served on the mainland or an island dependant of the river level. Overnight camping on the banks of the Zambezi River (meals, limited drinks and camping equipment included).
Upper Zambezi Canoe Safaris
Take a canoe safari and experience everything the stunning and charming Upper Zambezi River has to offer. Depending on the choice of trip, you can get to experience some small but exciting rapids, lunches taken on remote sandbanks, spending the night in the pristine Zambezi National Park, drifting down seldom seen channels and all the excitement of the great African outdoors with its rich diversity of mammal, bird, fish and reptile life.
Overnight canoe safaris offer guests an authentic "camping" experience. Kalai River Camp is situated approximately 25kms upstream from Victoria Falls in the Zambezi National Park and is a mobile rustic bush camp. It is important to note that it is not a "luxury permanent lodge"! The camp is fully backed up by a team of staff that set up camp in preparation for client's arrival.
The camp comprises of large walk in tents, equipped with camp beds, mattresses, sheets, pillows and duvets, camping water basin (which are filled with hot water each morning), a paraffin lantern, a bedside table and hand towels. There is a portable toilet and hot shower in camp. The camp and dining table are set up under the stars on the riverbank with stunning views of the river.
On all overnight trips limited beers and soft-drinks and mineral water are provided (approximately 2 per person per night); wine (1 bottle per 2 guests). If clients require other alcoholic or imported drinks they must supply their own. During winter months (April, May, June, July and August), the evenings, nights and early mornings will be very cold. Clients must bring their own warm clothing. Space is limited; we suggest one carry bag per person.
---
Notes: Day 5 & 6
DAY 5
A delightful English breakfast is served, after which you board your canoe and the day is spent canoeing another 18 kilometres downstream to the mighty Victoria Falls. Rapids canoed today include the "Kandahar Rapids". The scenery, channels and the rapids on both respective days are very different. Cold minerals & beers are served at the end of the canoe safari. You will be transferred the short distance back to Victoria Falls and arrive at The Elephant Camp in the late afternoon. This afternoon, enjoy an elephant interaction with Wild Horizons Elephants.
DAY 6
An early breakfast at the Elephant Camp followed by a morning Tour of the Falls. Sadly, time is up and you are transferred by vehicle to Victoria Falls Airport. End of services (If you feel that you require an extra night in the Falls we can always give you a quote you on that, just let us know).
A couple of worthwhile specific activities are available at the Elephant Camp, please see details below:-
Victoria Falls
One of the original natural wonders of the world, the Victoria Falls is a World Heritage Site and an extremely popular tourism attraction. Known locally as 'The Smoke that Thunders', this spectacle is accessible from both Zambia and Zimbabwe and it is an ideal place to combine a game viewing and water sports. There is excellent fishing, a terrifying bungee jump and arguably the best commercial white water rafting in the world.
Overnight: Elephant Camp
Situated on a private concession within and bounded by the Masuwe River and the Zambezi gorges, The Elephant Camp has breath-taking views of the Victoria Falls' spray and the spectacular gorges which separate Zimbabwe and Zambia. The Elephant Camp is a luxury, intimate lodge under canvas within easy reach of Victoria Falls (approximately 10km) and all its attractions and activities, yet secluded in its own private game reserve. The Elephant Camp offers exclusive suite accommodation for only 24 guests in 12 luxury tents.
All suites are gorge facing and boast a private viewing deck and plunge pool, private lounge area, air-conditioning and fans, bath (with a view), inside and outside shower, mini bar and tea/coffee stations. The lounge, bar and dining area lead out to a sun kissed pool from where the roar of the water rushing over gorges becomes a constant beat and soon settles into the background like an old friend. It is calming and therapeutic to sit back, watch and listen to "the smoke that thunders".
Select Spa Treatments are available in the privacy of your suite (subject to availability, on request at an additional charge). Access is by road transfer from Victoria Falls (15 km from Victoria Falls Airport and 10 km from Victoria Falls town), Livingstone and Kasane.
Activities at Elephant Camp
Spa Treatments
SeSelected Spa Treatments are available in the privacy of your suite (subject to availability, on request at an additional charge).
Walking Safaris - Nature & Birding Walks
Explore our beautiful concession, part of the Victoria Falls National Park, with experienced guides who will bring the landscape to life. This activity is included in our rates but must be scheduled on arrival and is subject to availability.
Village Tour
Guests will be transferred to a rural village where they will see local villagers going about their daily tasks and interact with them. The tour enables them to see rural Zimbabwean life first hand.
Visiting the Victoria Falls Wildlife Trust
Guests visit the Victoria Falls Wildlife Trust (VFTW), a non-profit whose mission is to advance environmental conservation through hands-on wildlife research, the management of a veterinary laboratory and rehabilitation facility and the education of local peoples in the sustainable usage of natural resources. This activity is included but must be scheduled on arrival and is subject to availability.
---
Included in this safari
IMBABALA SAFARI LODGE
• Accommodation in a stone and thatch chalet with a spectacular veranda view
• All meals and non-premium beverages
• Conservation fee
• Activities: morning or afternoon game drives, river safari, night drive
UPPER ZAMBEZI CANOE SAFARI
• Accommodation in a riverside tent
• All meals and limited drinks
• Zambezi National Park fee
• Use of canoe and camping equipment
ELEPHANT CAMP
• Accommodation in a stunning Luxury Tent
• All meals, local brand drinks and house wines
• Complimentary mini bar
• Conservation fee
• Meeting Wild Horizons elephants
• Sundowners at the Batoka gorge
• Birding and nature walks
• Tour of the Falls
TRANSFERS
• All transfers between Victoria Falls Airport, the Camps and Zambezi National park
• Two return Victoria Falls town transfers per day at Elephant Camp
Excluded
PARK FEES
• All national park fees Victoria Falls
More Travel Informationh3>
• Victoria Falls Travel Information
• Victoria Falls Activities
• Zambezi National Park Information
Return from Zimbabwe Safari IS5B page to our home page