What are the Must Do activities in Victoria Falls?
Victoria Falls is considered the Adventure Capital of Africa, in fact there are few places in the world that can get close to the variety of activities on offer in Victoria Falls.
That may sound like a bold claim but because we are not only blessed with a seventh wonder of the world, the Victoria Falls and all the activities centered around that, we also have the Zambezi River, which has phenomenal bird and wildlife, as well as the best one-day white water rapids in the world. Deep gorges allow us to have bungee jumping and other adrenaline activities and then to top it all off, Victoria Falls is positioned in the middle of some of the most prolific wildlife reserves in Southern Africa, offering some of the best Safari activities available.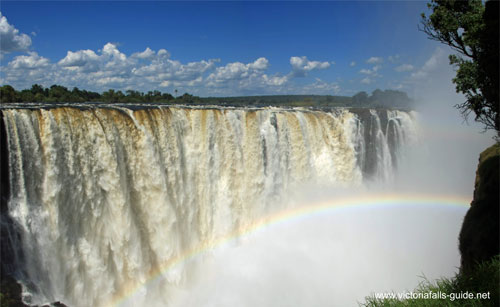 The Victoria Falls seen from the Victoria Falls Rainforest on the Zimbabwe side
Nowhere else in the world has such a diversity of attributes all in such proximity to each other.
With so much to do, what does one do? How do you decide?
Well, to an extent, this is a matter of personal preference and therefore stating what is a "Must Do" activity is quite difficult. Bungee jumping will be an absolute "Must Do" for some people, but for a lot of people they could think of nothing worse.
So, I have outlined activities below that I believe encapsulate the essence, culture and beauty of Victoria Falls, that suit the majority of people. I feel you would be remiss to leave this destination without having done some of them.
You can of course choose to add on any of your personal preferences, like bungee jumping, white water rafting, an elephant encounter, a rhino walk, a horse back safari or fishing to name a few.
Flight over the Victoria Falls and Zambezi River - Microlight Flight
11 Must Do Activities in Victoria Falls
Seeing the Victoria Falls From 4 Different Angles
This is a no brainer, and an obvious "Must Do". Even if you have visited the Falls before, their splendor is unsurpassed, and every visit is breathtaking and different. A bulk standard guided tour suits most people, but the downside is that you can be rushed along with the whole tour and don't get the opportunity to really savour some viewpoints that appeal to you. So, my preference is either to do a privately guided tour or do it on your own, at your own pace.
This is a pricey one, so might not suit everyone's budget, but it has to be considered a "Must Do" activity. Seeing the Falls from the air gives you a totally different perspective, no matter what time of year. Looking deep down into the gorge and the cascading water is breathtaking. Either a 12-to-13-minute helicopter flight or if you are more of a thrill seeker, a microlight flight.
You've seen the Falls from above, now you should see them from below. This activity does require a certain level of fitness, as you need to walk in and out of the gorge, but if you are up to that then the view is quite spectacular, nothing can really quite describe how beautiful it is. As a bonus you also get to race up and down rapids 1, 2 and 3 for a bit of an adrenaline rush. Please note this activity is seasonal.
One more angle to see the Falls from and that is from Livingstone Island, which is only accessed from the Zambian side. Livingstone Island is on the edge of the Falls, so you get to look right along the length of the Falls by standing on its very edge. An optional extra for this tour and highly recommend is jumping into the devil's pool, which is also right on the edge and you get to hang over the lip of the Falls and peer down into the gorge below. With massive volumes of water cascading all around you. Please note this activity is seasonal.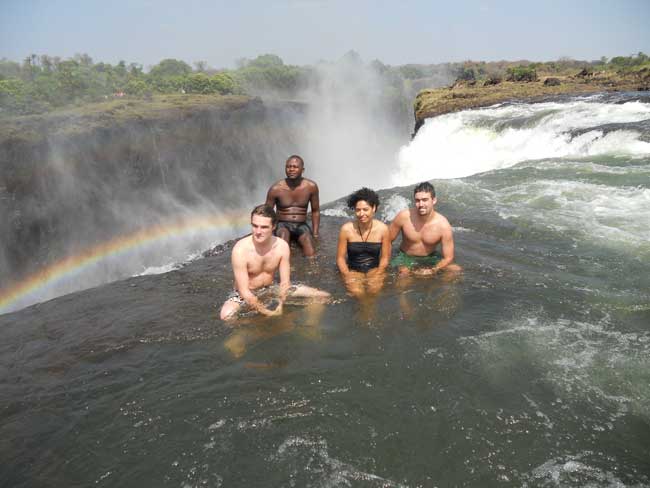 Swimming in the famous Devils Pool on the edge of the Victoria Falls - Zambezi River
For a Bit of Culture and History
This quaint, not so well-known, little activity is one of our favorites and therefore fits into our "Must Do's". The 19th century styled tram departs from town at scheduled times and meanders slowly for a few kilometers along the train track, through wildlife country and onto the Victoria Falls Bridge. The host of the tram recounts the history of the Victoria Falls Bridge which was completed in 1905 and was the brainchild of Cecil John Rhodes. The stories are intriguing and fascinating.
On the bridge, passengers are allowed to disembark and take in the wonderful views of the Victoria Falls and also the Zambezi River and gorges below. A short walk to the museum on the Zambian bank is yet more fascinating.
Take in more views of the bridge from all angles and then get back on the tram, which then tootles its way back to town. Please note passports are required but no visas are needed.
Immersing oneself in the culture of a foreign country is becoming more and more popular these days. African culture is at the opposite end of the spectrum to most western cultures and is therefore almost more fascinating. Visiting an authentic African Village, not far from the town of Victoria Falls has a widespread appeal and therefore also fits into our "Must Do's".
You get to experience the day-to-day life of living in an African Village. You will learn about their community projects, traditions, ceremonies and how they deal with conflicts. What they eat and how they prepare it. How they grow their food and bring up their livestock. How they care for their children and much more. One of the best parts is you get to ask the questions. It's important to book the right tour as some can be touristy, you want an authentic tour that is not at all contrived. Ask us.
7) Craft Market and Art Galleries in Victoria Falls
Zimbabwe is well known for its incredibly talented artists, in the form of stone and wood carvings but also for paintings and other crafty products. Zimbabwean stone sculptures are sought after worldwide and sell for incredibly high prices. This is your opportunity to take home a big or small piece of African art, that will remind you forever, of your visit to our country and at the same time add beauty and style to your home.
There are markets, shops and galleries dotted around town, which you can amble around on your own or preferably book a good guide and get shown to the best places and miss out some of the riff raff.
Victoria Falls has two great options when it comes to eating traditional food, which is an absolute "Must Do" when visiting a foreign country.
The Boma dinner is a very popular activity and restaurant in Victoria Falls. I say an activity, as it includes an interactive Drum show, where patrons join in and are taught how to beat the drum to the rhythm of Africa, in a highly entertaining show. It's more about the experience than the food, but the buffet spread includes traditional Zimbabwean food, from crocodile tail to warthog and a host of other morsels in between.
Dusty Road's is a second option and the food here is very tasty, set in a converted house in the middle of the high density township, with unique and quirky local décor. Just about everything used has been up-cycled, it looks fantastic, and the ambiance is authentically African. The waiter's painstaking go into detail about how everything is grown, prepared and cooked. The experience gives you an in-depth insight into traditional African food and lifestyle. It's a fantastic evening out and well worth doing.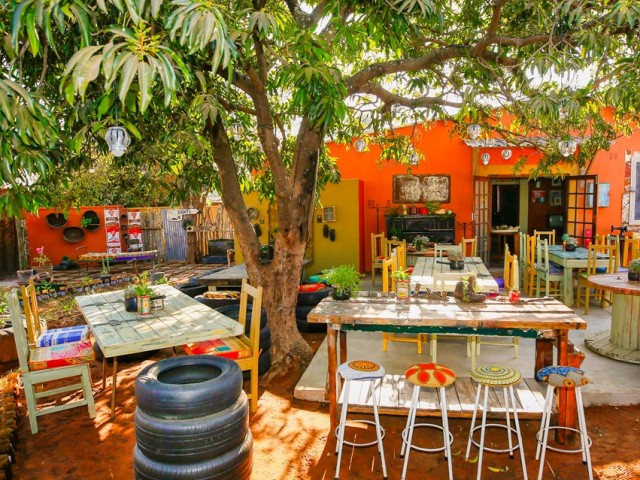 Dusty Road Experience - colourful and unique traditional food
Wildlife Experiences in Victoria Falls
When it comes to a safari experience, a lot depends where else you are going during your holiday. If you have spent a week at a game lodge in the Kruger National Park, for example, then you might not want to spend any more time in a game park around Victoria Falls. But if you haven't then I would highly recommend doing a couple of the options below.
There is a multitude of different boats available, with varying degrees of luxury, you can read more about the various options here. But suffice to say that it is a "Must Do" to get onto the Zambezi River to see and experience it. Wildlife, such as herds of elephant are often encountered, but hippos and crocodiles are an absolute certainty as is the beautiful scenery.
My cruise preferences would be an afternoon sunset and dinner cruise and if time permits an early morning cruise.
Morning cruises are generally overlooked by most agents but are a great option for your last morning before flying out at lunchtime. Very few other boats are out in the mornings, so the river is quiet and peaceful, and the birdlife is amazing. Please note you cannot see the Falls from any of these cruises, only the rising spray.
The Chobe National Park in Botswana is a short 80km drive from Victoria Falls. The Chobe River front is well renowned for its intense concentrations of wildlife especially Elephant. If its game you want to see, in large numbers, then a Chobe Day trip is a "Must Do" activity for you. The activity includes your transfers back and forth to Victoria Falls, as well as a game drive and a boat cruise. Overnight options are also available.
Closer to home and right on the doorstep of Victoria Falls is the Zambezi National Park. This park doesn't have the high concentrations of wildlife, as in the Chobe but there is still every possibility of seeing lion, leopard, buffalo and elephant, plus all the plains game species of giraffe, zebra, impala, kudu and many others. A walk or drive here, with one of the very knowledgeable game guides is more about immersing yourself in nature. It is a very rewarding experience and well worth doing.
Elephant herd and hippo in and along the Chobe River - Chobe National Park, Botswana
This has been a hard subject for me to condense into a mere 11 activities. I could go on forever about trips into game parks nearby, like Hwange National Park which offers phenomenal safari experiences, if you have a bit more time and money on your hands. Or having a delicious lunch at the Lookout Café, but I felt those are starting to stray from the absolute "Must Do" activities.
However, if you would like to know more about everything on offer, then please don't hesitate to contact us, we would love to help you plan your holiday and make the most of the precious time you have here.
THE VIC FALLS BUSH TELEGRAPH
our Bi-Monthly E-Newsletter

Each issue has a destination update, loads of information about conservation and wildlife, specials offers, traveller tips, community projects, website highlights and tons more...

Find out more about our Bush Telegraph

"Your newsletter keeps me informed about new and old and is the best I've seen in a long while - informative, not commercial, just plain perfect!" - I.Skliros

Don't worry. Your e-mail address is totally secure. I promise to use it only to send you The Vic Falls Bush Telegraph.
Return from Must Do Activities in Victoria Falls to our home page