Cultural Village Tour
Visit a real Zimbabwean village and learn what true rural life is about, and see how villagers have kept the culture alive
Monde Village near Victoria Falls
Introduction
A visit to a local Zimbabwean village is an eye-opening experience and interactive tour, giving insight into the old ways of the Zimbabwean people, essentially taking you back in time. Most rural Zimbabwean folks are subsistence farmers, so they have little interaction with urban centres apart from if they want to sell surplus. Villagers interact more with each other than with the outside world.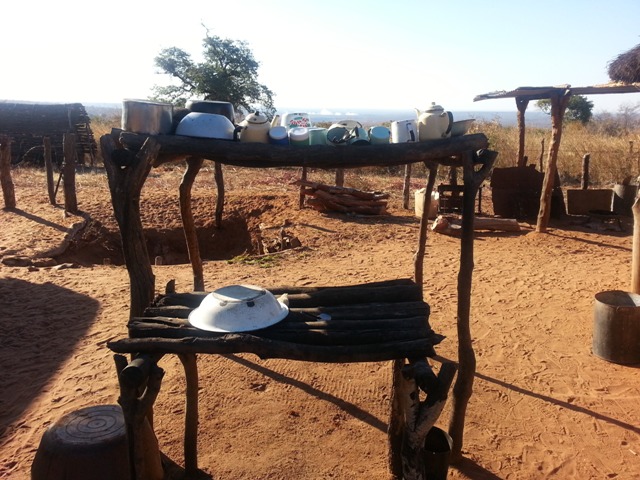 The home-made dish rack
The Start of the Cultural Village Tour
You are picked up from your hotel/lodge, and taken through the largest and oldest township in Victoria Falls on the other end of town. Then you are taken to the highway where you will travel 12kms out of town to a dirt road, which takes you to the rural village. It is less than 10 minutes on the dust road to the village. So it is about 25 to 30 minutes to get there.
Monde Village
In a quiet side of the rural countryside is Monde Village, where you will meet the local inhabitants, go through introductions, and talk about their culture, customs, history and daily lives. You will be shown the how their homestead is set up, the animals that they keep, what sort of equipment and utensils they use, the way their rooms are set up, they kind of food they eat, and so much more. Depending on the time of your tour, you may participate in preparing food and/or other chores.
The tour lasts about 2 to 2.5 hours (including travel time).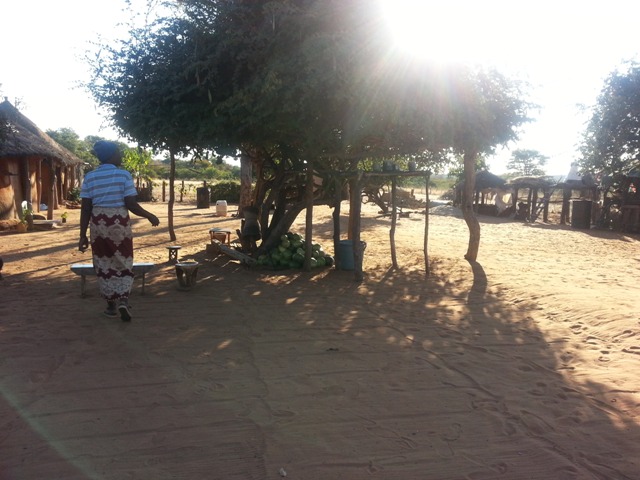 Under the shade where socialising happens
What you will need to bring
• Sunhat & sunglasses
• Camera
• Comfortable shoes
• Groceries and gifts are optional. There are school-going children in the village, so supplies are welcome.

What will you need to know
• This tour is great for families, and is suitable for everyone.
• Tours can be arranged for any time of the day.
• You are not required to bring gifts, but you may do so if you wish.
The Vic Falls Bush Telegraph
our Free Quarterly E-Newsletter

Each quarter there's loads of information about conservation and wildlife, a destination update, specials offers and discount packages, traveller tips and stories, book reviews, African folktales, environmental reports, bush recipes, best photo competitions and tons more....

"Your newsletter keeps me informed about new and old and is the best I've seen in a long while - informative, not commercial, just plain perfect!" I.Skliros

This Quarter we are also giving away a Free Screensaver to Every New Subscriber.
Return from Cultural Village Tours to our Victoria Falls home page