The Siduli Hide
Experience a unique and authentic safari activity and watch the big game of Victoria Falls up close


The Siludi Hide at Victoria Falls Safari Lodge
The Location
We were lucky enough to be invited by Professional Guide Charles Brightman of Discover Safaris to experience the Siduli hide which is situated close to the waterhole below the Victoria Falls Safari Lodge. The Hide offers wildlife enthusiasts a unique and authentic opportunity to observe a variety of mammal, reptile and bird species that frequent this very busy waterhole.
Built to look like a termite mound the hide is completely unobtrusive, so as long as guests sit quietly when inside it, the animals are unaware of their presence and literally stroll by within a few feet, giving them an incredible and very close-up encounter with nature.
Guest meet at the Victoria Falls Safari Lodge reception and are then driven a short distance down the hill towards the waterhole. Then a short five minute walk, conducted by a professional guide takes you to the hide. On our trip, we had to up the pace slightly as the elephants were already on their way to drink and we needed to get into position before they arrived.
Siduli Hide at Victoria Falls Safari Lodge
The Experience
We had 3 individual herds of elephants, totalling no less than 60 in number come down to quench their thirst and feed on the mineral salt-licks. From ground level we were able to look up at these magnificent creatures, sometimes only a few inches away, because of the hides' disguised and sturdy nature we felt totally safe. It was a truly awesome experience.
Other species such as kudu, warthog, impala, baboon and waterbuck also came down and the birdlife was fantastic. There are five crocodiles living in the waterhole, one of them we saw feeding in a unique way by trapping small fish with its body and tail against the bank before catching them with its powerful jaws. Charles, who is exceptionally knowledgeable about wildlife, generously passed on lots of interesting information to the guests in a hushed whisper.
This whole experience is something I would have expected and have experienced deep within one of the renowned National Game Parks, but to have it on the doorstep of Victoria Falls and available as a short and affordable activity is very exciting. Even though game viewing, as we all know can never be guaranteed and varies considerably throughout the seasons, I would still highly recommend this activity and it is certainly on our "must do" list of activities for visitors to Victoria Falls. Especially for keen photographers and wildlife enthusiast who are looking for a "non-touristy" activity.
Morning and afternoon trips are available for the Siduli Hide activity, and they last a minimum of two hours, however if the game is present then one just has to wait and enjoy the experience for however long it takes. Times will vary slightly with the seasons, but normally clients set off for the hide at 0615hrs and at 1615hrs, with pickup times being about 15minutes prior to this.
The price for this activity includes return transfers from your hotel in Victoria Falls. If you are picked up in the morning, you will be offered tea or coffee at Victoria Falls Safari Lodge before making your way to the shelter. If in the late afternoon, soft drinks, drinking water and limited amount of beer will be made available for you (being of a sober state is of paramount importance).
This activity is an absolute must if you want to see animals close up and in a safe environment. Be aware, however, that with changing seasons, there will certainly be a variation in starting and ending times for the Siduli Hide. See our Victoria Falls weather page for more information.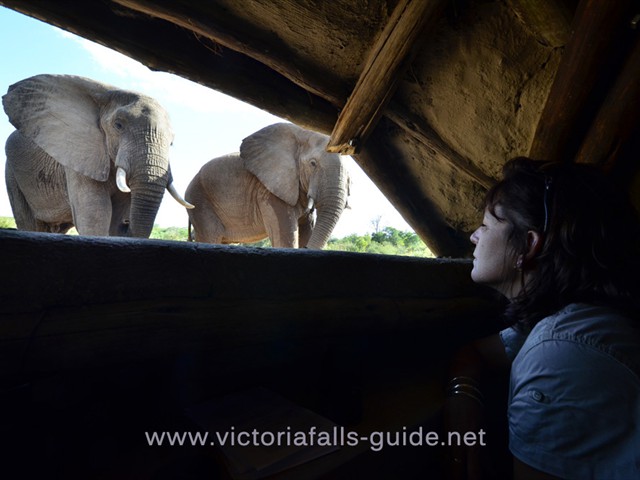 Inside the underground hide
What you will need to bring
• No bright coloured clothing which may attract unwanted attention
• Binoculars and cameras

What you need to know
• Children below the age of 16 are not permitted (except with special permission). Have a look at our Family Friendly Activities page for things to do in Vic Falls as a family.
• Guests must be able to sit quietly for long periods of time and should not suffer from claustrophobia!
• This activity is not for those who cannot keep still and quiet for a long time.
• It is ideal for photographers and wildlife enthusiasts, who are after a "non-touristy" experience.
• Up to 6 people can sit comfortably in the hide at any one time.
• Minimum 2 pax.

THE VIC FALLS BUSH TELEGRAPH
our Bi-Monthly E-Newsletter

Each issue has a destination update, loads of information about conservation and wildlife, specials offers, traveller tips, community projects, website highlights and tons more...

Find out more about our Bush Telegraph

"Your newsletter keeps me informed about new and old and is the best I've seen in a long while - informative, not commercial, just plain perfect!" - I.Skliros

Don't worry. Your e-mail address is totally secure. I promise to use it only to send you The Vic Falls Bush Telegraph.