Combined Horse Safari
With Canoe Trip and Lion and Elephant Walk
This is an incredible 8 day Safari run by Zambezi Horse Trails filled with a enormous variety of activities that will leave you with a lifetime of memories. You just have to read their full itinerary below to see what's on offer.
Horses: Anglo Arab, Cleveland Bay and Thoroughbred
Tack: Australian Stock Saddles.
Pace: Moderate with long canters
Riding Ability: Intermediate to strong intermediate. This is a dangerous game area so clients should be confident at all paces able to do a rising trot, capable of riding a horse at a strong canter through rough country if necessary and happy to canter for longish stretches, game permitting!
In Summary
Ride across the rolling Kalahari sand dunes and dramatic escarpments, through teak forests and Mopane Woodland to the cool shady Riverine forest along the Zambezi. Venture over hills and ravines above the Zambezi gorges, with a bird's eye view of the rapids below Victoria Falls.
There are plenty of opportunities to canter on these rides – game permitting. Your ride begins and ends near the Zambezi River – an area in which you and your horse can stand in the middle of a herd of browsing Kudu, wander through herds of impala or watch elephants undisturbed on the banks of the Zambezi.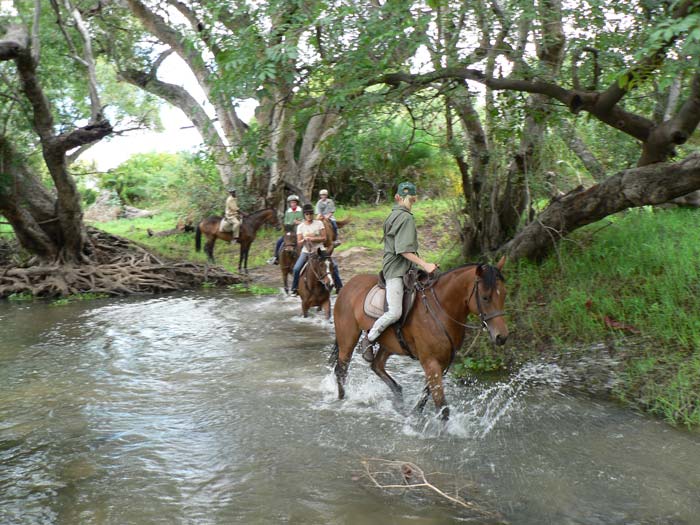 Horses crossing the Zambezi channel
Further out the country is wilder and more open. You will ride through beautiful country, learning about plants, their traditional uses and how to track and understand the habits of wild animals and their environment.
You will have an elephant back safari and a lion encounter along the way and finish off your week on a full day canoe trip on the upper Zambezi River before spending your last night at the luxurious Imbabala Safari Lodge at the edge of Chobe National Park - with one of the highest elephant populations anywhere. A sunset river cruise and morning game drive is some of the highlights before departing from Victoria Falls in the afternoon.
Full Itinerary
Day 1 : Arrive in Victoria Falls around noon. Transfer to a local B&B (we may use one of 3 charming B&BS ... depending on availability). You will be picked up by your horse guide at 3.30pm for your pre trip briefing and introductory ride - this will be your first introduction to this area and a chance to see if you are happy with your horse, your saddle and so on before we leave on our long safari tomorrow. You will ride for at least three hours today, experiencing sunset over the Zambezi River.
Clients may choose to stay in their own accommodation – in which case we will collect them at 3.30pm.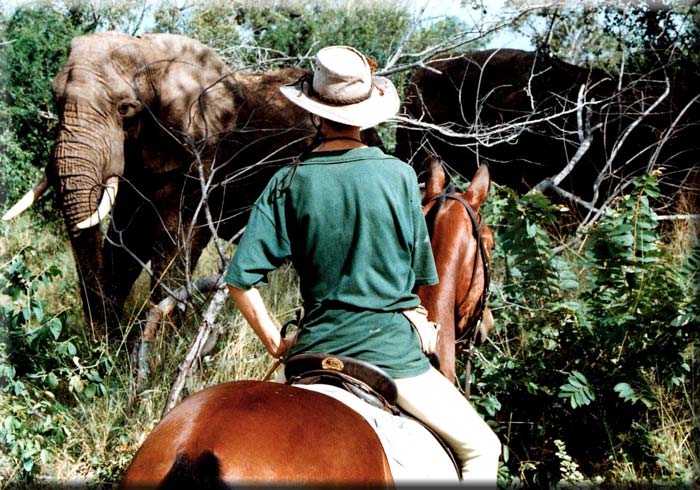 Watching elephants on a horse safari - Victoria Falls, Zimbabwe

Day 2 : You will be collected from your lodge at 6.00 am
Tea, coffee, fresh fruit and biscuits will be served while Alison talks to each client individually to ensure everyone is allocated a horse most suitable to their needs. Alison has owned and ridden horses all her life, and with many years in the safari industry, is expert at allocating horses to riders.

After a brief orientation and safety talk you will move off with your guides.
As the stables adjoin Victoria Falls National Park, game viewing often starts from the stable yard with last nights elephant tracks.

The morning will be spent exploring this game area which includes the Zambezi River, Victoria Falls National Park, and surrounding game areas. None of these areas are fenced so both horses and wildlife move freely from one area to another.

A picnic lunch is served on the banks of the Zambezi, or on the Masuie River under the shade of acacia albidas depending on the time of the year. After this break we will ride across the long Kalahari sand dunes bordering Zambezi National Park, looking for sable and buffalo. We will reach Old Ursula Camp in the afternoon.

The evening will be spent on a night drive and bush dinner – giving you an opportunity to view animals seldom seen by day and explore this estate further - Night spent at Ursula Camp.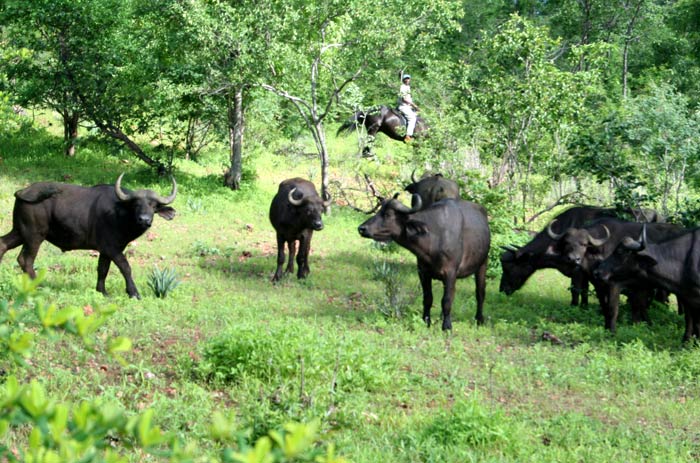 Buffalo and horses
Day 3 : After breakfast we will set off on horseback again to explore this area, riding up towards the Kalisosa, looking for giraffe zebra and sable. Carrying our picnic lunch with us we will ride over the sand escarpment with its magnificent views before crossing the river and roaming the wide open spaces towards Sekuti's and the Kalisosa.
After a long mornings ride exploring this magnificent area we will return to Ursula Camp for lunch and time to relax by the pool, or in the gardens, watching birdlife or game coming in to the waterhole.
The rest of your afternoon will be spent on your Lion Encounter, which starts at 3.45pm. Night spent at Ursula Camp.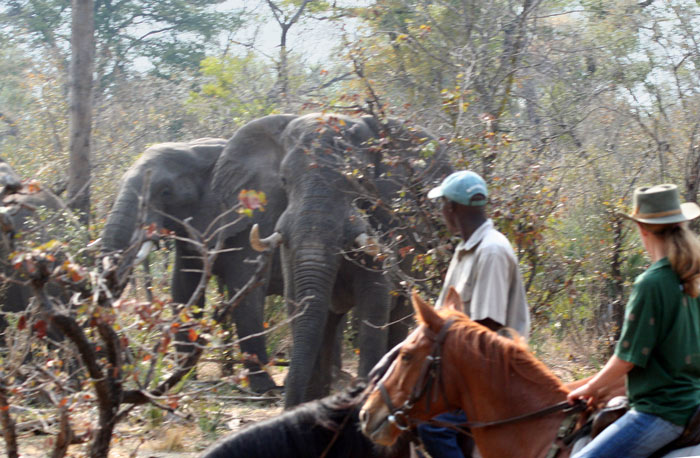 Horse back safari riders watch elephants
DAY 4: We will set off after breakfast for another long ride. At first we will explore the dunes of Fuller Forest area, before our ride along the ancient tribal footpaths above Batoka Gorge on our way to Gorges Lodge with its spectacular setting on an 800ft cliff. We will be riding through Monde Rural area, giving you a unique opportunity to see a less 'touristy' aspect of life here.
This is remote and sparsely inhabited country where horses are an exciting event. After lunch and a rest at Gorges you have the option of exploring this area further. As some of the staff are from this area you will visit with their families and experience the simple dignity of traditional village life.
Gorges Lodge itself is part of a community based project - but what will interest you is its spectacular location - where you can watch black eagles souring below you. Gorges Lodge is also the home of the rare taita falcon.
Night spent at Gorges.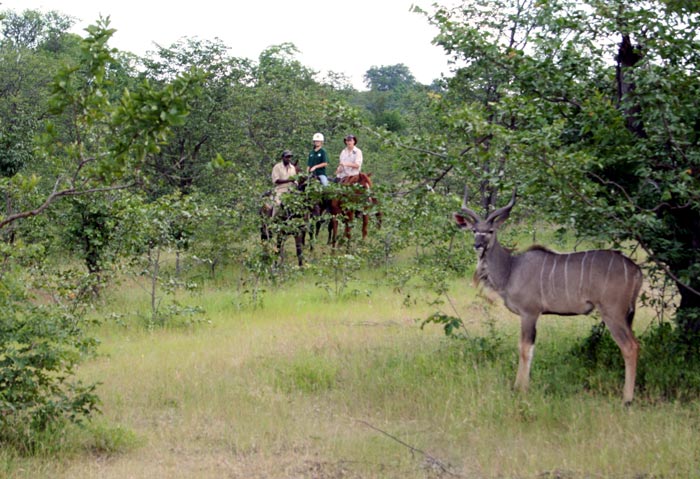 Riders on horse back watch kudu

DAY 5: You may be reluctant to leave Gorges, but we have another long ride back exploring new areas of this dramatic landscape towards Fuller forest, exploring the wide open vistas of Jafuta vlei - less game here, but lovely riding country with plenty of opportunities to canter.

We will either have a picnic en route, or lunch at Jafuta. In any event the waterhole at Jafuta will be an excellent place to relax with a cold drink and watch out for elephant and kudu.

After a break we will mount up again for our ride down to the Wild horizons Estate for your Elephant Safari - a marvellous opportunity not only to ride, but also to learn more about and interact with these magnificent creatures.

After this memorable experience, you will be transferred directly back to Jafuta by vehicle in the evening, to relax on the platform overlooking the waterhole and experience absolute silence…
Night spent at Jafuta.

Day 6: Early breakfast – and if you want to be awake before sunrise the Jafuta staff will serve you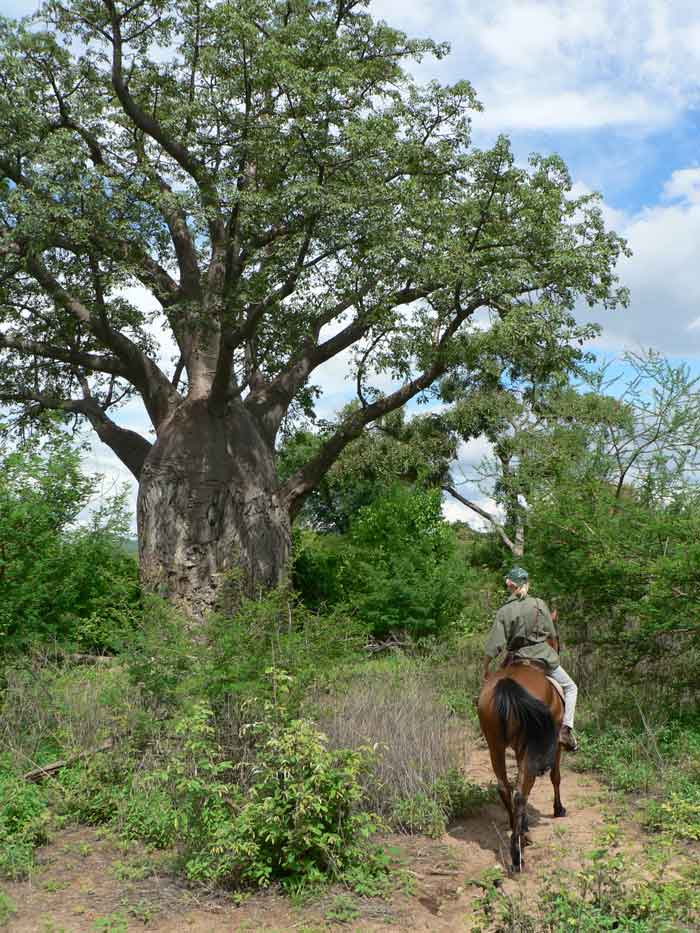 breakfast at 4.00am if you so require! – you will be transferred by vehicle for your canoe trip on the Upper Zambezi River
This a wonderfully relaxing way to enjoy the astonishingly beautiful scenery that lines the river before it takes its plunge over the Victoria Falls. This part of the river is dotted with many islands of varying size; inhabited by a variety of birds and small animals. This is the route David Livingstone took on his way in search of the rising clouds of mist.
It was in fact along these banks that he remarked "scenes so lovely must have been gazed upon by angels in their flight". Breakfast is enjoyed on the banks of the Zambezi, followed by a safety talk by the professional river guide, before the day's canoeing begins. Lunch is a picnic usually taken on one of the remote islands. The day is spent running rapids, exploring channels and bird and game viewing.

After your canoe trip Wild Horizons will transfer you to back to the Falls by 4.00pm. You may choose to use the rest of the afternoon to view the Victoria Falls and Rain forest itself. You will need about 2 hours, returning to your lodge in time to change for your dinner at The Boma. This is not just another ethnic restaurant, but a cultural experience that bombards the senses with the tastes, sights, sounds and smells of Africa and its people.
After dinner guests are invited to wile away the evening with the restaurant's very own sangoma - a traditional story teller - to learn more about the country's folk-lore, culture and heritage.

Day 7: You will now say farewell to your horse with an early morning horse safari along the banks of the Zambezi so you will be picked up from 6.00 am if you so wish for your last ride through this very special area.
An early start might give you a chance to view hippos grazing on shores of islands. After returning to your lodge to collect your luggage, you will be transferred to Imbabala Lodge at 11.00-11.20 am
Day 8: Morning game activities at Imbabala Lodge, before being transferred directly to the airport and your flight home.
Bespoke itineraries can be arranged if some of the activities above don't suit you.
Prices on request
Other Horseback Safari Options
Please click on the links below to read more about the different trips that Alison offers, I know that she will also tailor make trips to suit your particular requirements;
Morning or Afternoon Horse back Safari
What you Need to Know
We may choose to vary the order and type of camps used, most especially to take advantage of game movement. Please note that any variation in route or camps will be only to increase the value and quality of the safari and always in the client's best interest. Cost will remain the same.
Dates: any time with a minimum of 2 riders – please request so i can check on availability of camps.
Not included: Drinks in camp and lodges, national park entry fees, extra meals and transfers.
Park entry as follows: Horse safari: US$30pp; Rainforest entry: US$30pp; river usage fee: US$10pp; Imbabala US$10pp

Weight Limit: 90kg.
THE VIC FALLS BUSH TELEGRAPH
our Bi-Monthly E-Newsletter

Each issue has a destination update, loads of information about conservation and wildlife, specials offers, traveller tips, community projects, website highlights and tons more...

Find out more about our Bush Telegraph

"Your newsletter keeps me informed about new and old and is the best I've seen in a long while - informative, not commercial, just plain perfect!" - I.Skliros

Don't worry. Your e-mail address is totally secure. I promise to use it only to send you The Vic Falls Bush Telegraph.