Home | Victoria Falls Activities | Zambezi River Jet Boat
Zambezi River Jet Boat
View the Falls from Below... Ride the Rapids... Travel at Speeds of up to 100 km/h and Perform 360° Tricks
NOTE: The Open Bus Tour is no longer running. Please see other activities that are offered in Victoria Falls, or contact us for alternative options.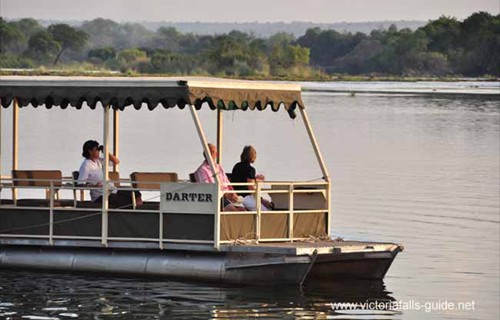 Zambezi River Jet Boat in the gorge below Victoria Falls

The Information below is for reference purposes only as this operation has now closed because the boat sank

The very popular Jet Boat trips are back. The reason these trips are so popular is that it gives one the opportunity to see the Victoria Falls from below, a completely different perspective to viewing from above. Apart from the scenic appeal, it is also a thrilling adrenaline activity as the high powered jet boats accelerate through the rapids at tremendous speeds.

Jet boat trips have a total turnaround time of approximately 2.5 hours of which about 30 to 35 minutes will actually be spent in the boat on the water, the remainder of the time allows for walking in and out of the gorge, plus safety and information briefings.

At the top of the gorge you will be issued with a helmet and life jacket. After a safety briefing you will be required to sign their indemnity form.

The walk in and out of the gorge is very steep and strenuous. It is the same path that clients on the white water rafting trip descend into the gorge. You need to be fit enough to do this.

Typically your captain will take you on a scenic drive to begin with to get you used to the boat. You will be taken into what's known as the "Boiling Pot" at the foot of the Falls. This extraordinary angle of the falls allows you look up at them and in doing so you get a true sense of their enormity.

As you become more familiar and settled the captain will start to wind up the speed and the tricks. This particular boat is capable of speeds up to 190kms per hour, you are unlikely to ever go this fast, but 100kms per hour is normal.

If you and your boat team are willing your captain will throw the boat onto a 360° turn, which is extremely exciting and leaves your heart racing.

Different water levels at different times of year dictate how many rapids you go through. At optimum levels you will be able to travel through rapids one, two and three, this is basically the full length of the seventh gorge.

At higher and lower water levels you might be restricted to playing around in rapid number one and two, it all depends.

Choice of Trips available: –

Trips run daily - Pick up times: 07h00 / 09h00 / 11h30 / 14h00

All Trips Include:  

National Parks river usage fee

Courtesy transfers to and from major hotels within Vic Falls centre

Transfers to and from the gorges

Complimentary drink after exiting the gorge

Video footage of your entire trip is professionally recorded and available for viewing and for purchase.


All Jet boat captains have a minimum of 500 hours driving experience. Captains are first aid qualified, carry a communication radio, cell phone and a first aid kit on the trip.

Unlike a conventional outboard motor, the river jet boat uses an internal impeller to provide propulsion. Water is drawn in through an inlet in the bottom of the boat and driven out through a nozzle at the rear with great force.

This top of the range River Jet Boat used by Regal Tours and Safaris is powered by a single 502 Big Block Chevrolet motor. Capable of speeds up to 190kms per hour.

The draft of this shallow 11 degree double aluminium hull is only 20cm to 30cms.



Share with others!






Can't find what you are looking for? Use Google Search to search this website for any term you are looking for.






The Vic Falls Bush Telegraph
our Free Quarterly E-Newsletter

Each quarter there's loads of information about conservation and wildlife, a destination update, specials offers and discount packages, traveller tips and stories, book reviews, African folktales, environmental reports, bush recipes, best photo competitions and tons more....

"Your newsletter keeps me informed about new and old and is the best I've seen in a long while - informative, not commercial, just plain perfect!" I.Skliros

This Quarter we are also giving away a Free Screensaver to Every New Subscriber.
---
Return from the Zambezi River Jet Boat page to our Victoria Falls home page