Abangane Houseboat
Moored at Kulizwe harbour in Binga, this 18 metre twin hulled boat is our top recommended houseboat in the non-luxury range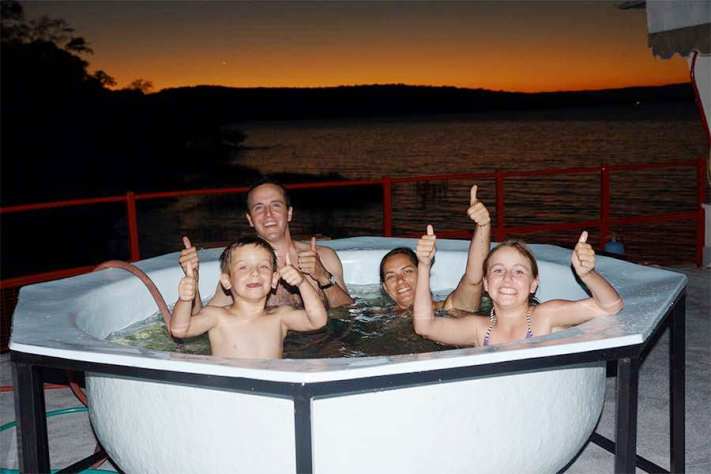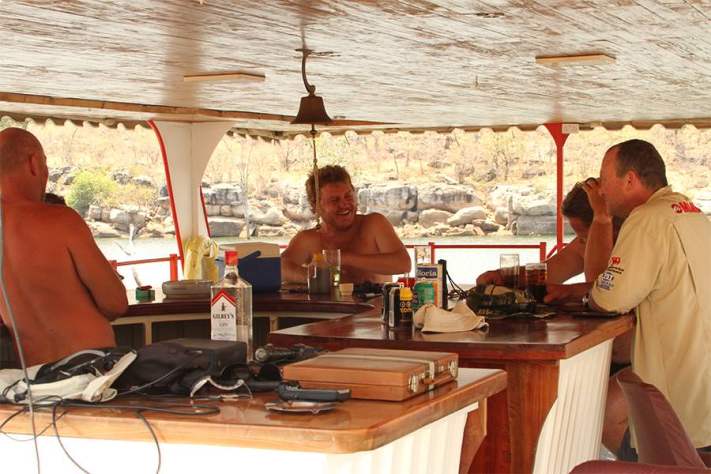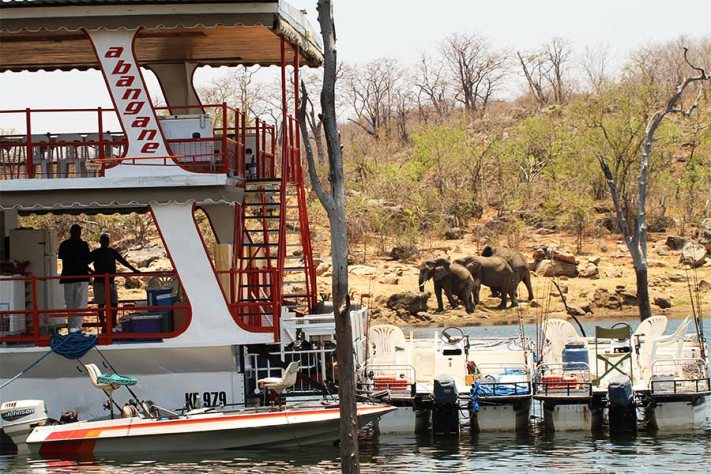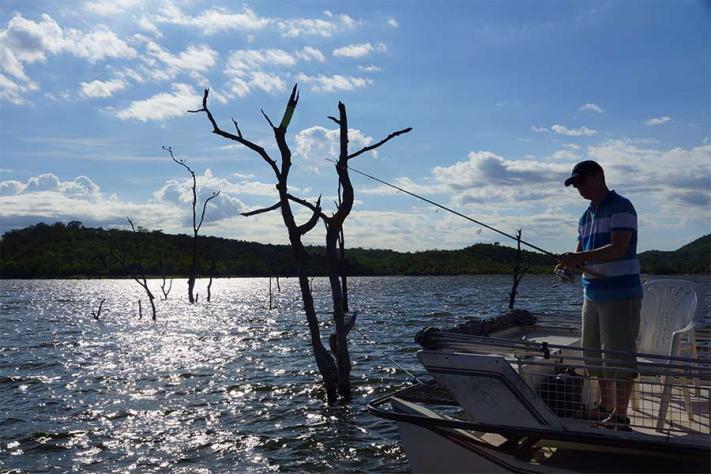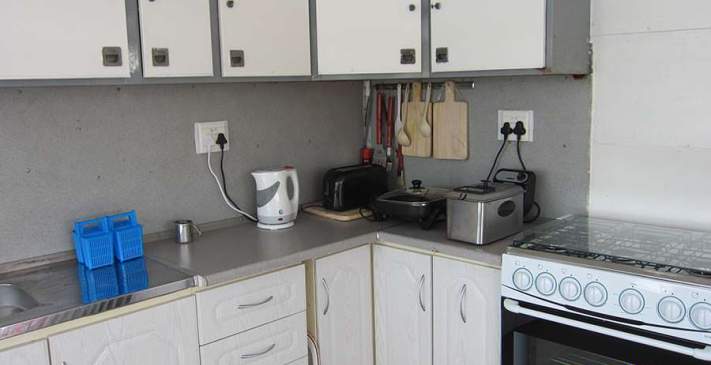 Introduction
The Abangane is the most reasonably priced houseboat (that is worth going on) you will find in Binga, on the western end of lake Kariba. There are no frills and spills that one gets with the luxury houseboats (like aircon and luxury cabins), but this boat is clean and practical and has all the amenities that one needs for a few days on the Lake. It gets you out there at the right price and you won't be uncomfortable.
What I particularly like about this houseboat is that they have done away with the traditional tiny and incredibly hot cabins normally found on houseboats in this price bracket. These small cabins are so cramped, hot and stuffy that people would rarely sleep in them preferring to sleep on the much cooler upper decks, just using the cabins as change rooms.
The Abangane houseboat has kept two decent sized cabins each with a couple of bunk beds (in case someone does want some privacy) and plenty of storage place for your clothes. With the extra space created they have made larger shower rooms and toilets. Clean bathrooms are important to me which is why I like this boat so much!
So most people sleep on stretchers on the open upper deck - good thick mattresses, linen and mosquito nets are provided. There are drop down blinds all round (upper and lower deck) to shelter you in the event of heavy winds or rain.
Our Opinion
The Abangane is one of the most affordable houseboats, clean and spacious for a satisfying holiday on Lake Kariba.
Accommodation on Abangane Houseboat
• 2 cabins / changing rooms with 4 bunk beds in total (lower deck)
• 2 shower rooms, 2 separate toilets (lower deck)
• Most passengers sleep on mattresses under mosquito nets (provided) on the upper deck.
Boat Specifications
• 18 metres twin hull
• The boat is powered by two 85 HP Cummins diesel engines
• The boat is registered to accommodate 15 passengers (12 is a comfortable number) plus a crew of 3 to 4.
The Lower Deck
Consist of crews quarters, storerooms, 2 cabins/changing rooms with 4 bunks, 2 shower rooms, 2 separate toilets and a fully equipped kitchen, which include electrical appliances, a gas stove,2 fridges and 3 deep freezers. A shower is situated on the Bermuda deck.
The Upper Deck
Approximately 75% of the spacious upper deck of the Abangane houseboat is under cover and contains a bar with bottle cooler and ice making machine and the counter doubles as a cosy meal table. Most passengers sleep under mosquito nets (provided) on the upper deck. Two freezers are situated on the deck and a large gas braai (barbeque) unit complements the cooking facilities and provides sociable meal preparation.
The Upper Deck of the Abangane houseboat
Facilities and Services
Generators provide 220 Volt electrical power to operate fridges, freezers, a hot water geyser, a washing machine, fans and plug points and charges the batteries to service the 12 Volt lighting system. An inverter ensures that the iPod dock (supplied) and fans work when the generators are switched off.
Two twin hulled tender boats powered by 25HP Mariner outboard motors are towed by the boat to allow access to shallow waters for fishing, and game and bird viewing. Please treat them with care. Passengers may bring their own tender boats, but only 3 boats may be towed by the Abangane houseboat.
The Crew A captain, cook and one or two crew members will attend to all your needs. Please advise them of your daily routine, ensure that they get a rest period during the day and are not kept up too late at night.
Laundry There is no laundry service on the boat, but the crew will assist should it become necessary.
Drinking water is filtered, but not chlorinated. You may wish to boil the water, bring chlorine tablets, or buy bottled water. Drinking ice (chlorinated filters) is made at the bar, once the boat has exited the harbor and water can be drawn from the open lake.
Ice blocks for keeping drinks cold in insulated boxes on the rafts can be purchased through Taylors Kwikspar, or Gecko Charter Supplies and Services. (see catering below)
Gratuities are entirely at your discretion and should be related to good service which we are confident you will get on the Abangane houseboat.
The 2 tender boats that accompany the Abangane Houseboat
Information
Boarding Embarkation
- Should be from 12.00 noon on the day you arrive and disembarkation should be before 09.00am on the day you leave.
What to Bring
Clothing - A tracksuit/fleece is useful in the Winter months as the evenings can be chilly, otherwise light clothing, sandals and a large sunhat is ideal. (only limited laundry can be undertaken by the crew if necessary)
Fishing Equipment
A limited number of basic fishing rods and reels are available for guest use. Each raft is equipped with a worm box, landing net and a keep net. You should bring your own fishing rods, reels, tackle and your own bait. Worms may be purchased from vendors outside the Bulawayo city hall and you should try and obtain 3 or 4 packets of dry and selected fresh kapenta (the crew can assist when locally available) for Tiger fishing. Bait is offered under the full catering option.
Security and valuables
Please use the small safe facilities in the bar provided, and bring your own padlock and key.
Medicines
There is a small well-equipped first aid box for emergencies but you are advised to bring your personal medications such as hangover pills, antacids, antiseptic ointment, stomach remedies and sunscreen. Mosquito repellent sprays or ointments are essential requirements.
Catering
The Abangane houseboat can be hired either on a fully catered basis or a self catered basis.
Fully Catered
Menus can be arranged within a weeks notice. The boat and fridges will be loaded with fresh provisions the day before you embark. Beers, minerals, ice blocks and fishing bait (masese, worms and kapenta) can also be loaded at extra cost under this option.
Self Catering
You can bring all your own groceries, drinks etc, which is the most common way or the below local companies can assist:
Gecko Charter Supplies and Services Allan and Elena Hein Mobile +263 (0) 774 351 417 +263 (0) 775 233 917 Email bingaboatskariba@hotmail.com
Taylors Kwickspar (Godfrey) Phone +263 (0) 15 316 Mobile +263 (0) 773 507364 Email fto@yoafrica.comm
The above suppliers can load the boat with groceries, beer, minerals, ice etc on the afternoon prior to embarkation, if requested in advance. Bring your own delicacies, meats or drinks that may not be obtainable from a rural superette.
Abangane Houseboat Charter Prices 2023
Self catering
Cost of charter is US$ 570 per night, but is subject to review and change at short notice, as circumstances dictate. (Excludes diesel) See cost example below.
Included in the Boat Hire
Boat and crew, bedding, linen, mosquito nets, towels, cutlery, crockery, cleaning materials, soap, toilet paper and rations for the crew

Fuel Costs
• 40 litres of Petrol and 2 stroke oil for tender boats are included in the charter fee. Additional petrol and oil used will attract additional cost.
• Generator Costs - Costs for 9 hrs running time per day are included in the charter fee. Additional usage attracts additional cost.
• For two nights they can travel in and around the Elephant Bay area and the fuel usage for this is US$ 400-00 for the 2 nights. They pay prior to arrival.
Cost Example - 12 pax around Elephant Bay for 2 nights
Charter fee 2 x $570 = $1140
Fuel cost = $400
Total (self-caering) = $1540 ($128.33 per person per stay or $64.16 per day for each guest)
How to Book

You can book this accommodation by sending us an Enquiry Form. We can also help you plan your vacation at no extra cost.
Zimbabwe National Parks Fees
These are not included in the Charter fee and are payable to the Parks representatives at the boat prior to embarkation. Parks officials may board the boat at any stage to check that payments are accurate and have been properly receipted. You may wish to let us know in advance exactly who is coming, relevant ages, residential status and how many people will be fishing, which we will pass on via the boat captain to save time before you embark.
Residents
International Visitors
Houseboat including tenders per person/day
US $3
US $10
Children under 5 years
Free
Free
Children 5 to 10 years
50% Adult rate
Resident pensioners over 60 years
50% Adult rate
N/A
Fishing fees per person/day
US $5
US $10
How to Book

You can book by sending us an Enquiry Form and we will help you plan and book your holiday for free
THE VIC FALLS BUSH TELEGRAPH
our Bi-Monthly E-Newsletter

Each issue has a destination update, loads of information about conservation and wildlife, specials offers, traveller tips, community projects, website highlights and tons more...

Find out more about our Bush Telegraph

"Your newsletter keeps me informed about new and old and is the best I've seen in a long while - informative, not commercial, just plain perfect!" - I.Skliros

Don't worry. Your e-mail address is totally secure. I promise to use it only to send you The Vic Falls Bush Telegraph.
Return from Abangane Houseboat to our Victoria Falls home page