Bomani Tented Lodge

Great value, Authentic African Safari Camp in the remote south eastern boundary of Hwange National Park on its own private game concession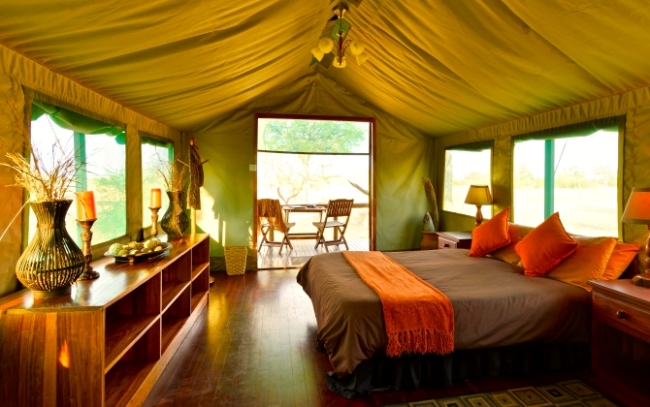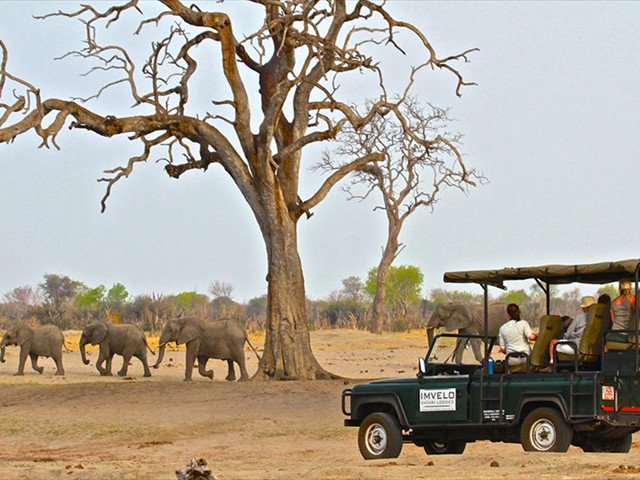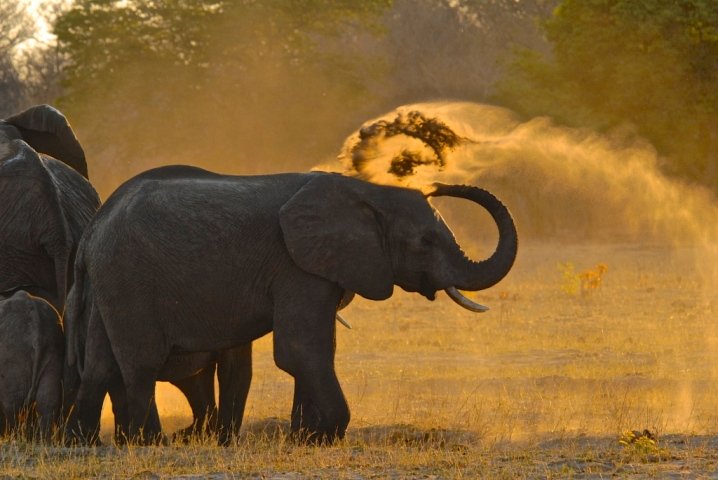 Introduction
Bomani Tented Lodge is situated on a 5000 acre private wildlife reserve within the Ngamo Forest Area on the remote and unspoilt south eastern boundary of the Hwange National Park.
There are no fences, simply a railway line that separates the private reserve from the Hwange National Park, therefore game roams freely between the two. Game drives and walks are conducted on both the private reserve and within the National park. To enter the National park is a short 15 minute drive through the private game reserve which is a game drive in itself.
This particular area of Hwange has beautiful open plains synonymous with scenes of Africa and herds of animals roaming freely across the open savannah. Camelthorn and teak tree forests surround the open plains. Several pans dotted around these open plains attract vast herds of elephant along with all the other species including lion, giraffe, buffalo, wildebeest, zebra, sable and many more.
Bomani Tented Lodge's central thatched area which encompasses the bar, dining area and lounge overlooks its own waterhole only meters away. Often while guests are eating or relaxing game will come down to drink. The plunge pool located between the central building and the waterhole is perfect for the sweltering months, in between your Bomani activities.
Bomani Tented Lodge has 10 tented rooms and 1 stone and thatched bungalow (The Royal suite). Four of the tents (the "Spurwing suites") are the latest additions to the camp and are larger and slightly more luxurious than the other five tents (the "Saddlebill lodges"). The Spurwing suites are built on concrete slabs at ground level and overlook the Bomani pan, their bathrooms are tiled and the furnishings are more luxurious. The Saddlebill rooms are built on wooden platforms raised 5ft above the ground giving them a commanding view across the open plains; they have a more rustic feel which appeals to some guests on safari. All tents have electricity and have bathrooms en-suite.
The policy at Bomani Tented Lodge is not to have rigid schedules but prefer to tailor make the day's game viewing activities to suit their guests. The guides will chat to guests around dinner or the evening camp fire and find out exactly what and how much you want to do. If you prefer to have a lie in and relax in your room or on your veranda then that's okay.
Activities at Bomani Tented Lodge include, game walks with a fully licensed professional guide, game drives around the private reserve or into the national park, night drives around the private reserve. Sitting in a sunken hide at "Stoffie's Pan" where you are eyes are at ground level and the waterhole is only meters away. Elephant come down to drink there every day and if you are lucky enough to be there at this time it's an unforgettable experience and the highlight of many a guest. Visits to a nearby village and school giving an insight into the lives of the local community. Bomani is actively involved in community projects aimed at uplifting and empowering the local community.
Tour of the Rhino sanctuary headquarters includes meeting some of the Community Wildlife Protection scouts on duty that day, and hearing a short talk on the origins of the Cobras unit and how they protect the rhino, as well as the future plans for our ground-breaking Community Rhino Conservation Initiative. You get to do a walking tour to view and spend time with the rhino and the Cobra Rangers guarding them 24/7 – lots of photo opportunities and quality time to watch and enjoy the rhino in their home on the Ngamo plains (how close one will be able to get to the rhino is subject to conditions on the ground).
Our Opinion
Bomani Tented Lodge is remote which can be considered an attraction in itself being far away from hordes of tourist. It is the furthest Hwange lodge from Victoria Falls, which means that flying in by private charter is the preferable option, but does add to the cost, however the lodge rate is so reasonable that paying for the charter is possible. If driving in then be prepared for a 2.5-hour journey on tar from Vic Falls to halfway house and then a 90-minute drive on dirt road to camp. It's not bad just be aware of this. Once you get there I think you will agree that the journey is worth it. Bomani's setting is classic Africa with a waterhole directly in front of the Lodge. On our last visit, elephants came down to drink every evening and during the day a procession of game frequented the pan going about their daily business. Lion had been seen around the camp a few days before.
Being on a private concession means that no other vehicles, apart from Bomani's have access to the concession. This also allows for them to do night drives. It has to be said that although there is plenty of game on the private concession it is not as prolific as that of national park even though there are no fences, but such close access to the park gives you the best of both worlds. The south eastern part of the park is so remote that only vehicles from the Wilderness Lodges will ever be seen down there.
The guides at Bomani Tented Lodge are first class and go out of their way to tailor make activities to suit your preferences. So instead of just doing a game drive they might take a picnic brunch out which you can then enjoy at one of the pans, all depends on the game movements at the particular time you are there.
Bomani Tented Lodge is the most reasonably priced camp without compromise on the quality of the safari experience. Maybe the food is not quite as good here but the game experience certainly is.
We highly recommend Bomani Tented Lodge for a great African Safari, knowledgeable game guides, a wonderful camp location and a bit of community awareness as well.
The time of year vastly impacts the Safari experience and what you will see. Please contact us for advice and details.
Summary
The varying seasons in Hwange will have a huge impact on your wallet and Safari experience.
The Green season (rainy season) will see incredible bird and insect life but reduced animal sightings. However lodge prices in most cases are dramatically reduced offering really good value.
The High season (dry season) is when animals congregate in vast numbers around the waterholes and National Geographic type scenes are commonplace. This is peak season and lodge prices escalate substantially.
Please feel free to contact us with details of your preferences and allow us the opportunity to discuss which time of year is going to suit you best.
**NB** Hwange Lodges in the peak season get over booked, it is advisable to plan and book well in advance to ensure you get what you want.
• Safari style luxury tents some at ground level, some raised on platforms
• Wonderful remote location overlooking its own waterhole
• Huge Open savannahs surrounded by Camelthorn and teak forests
• Excellent game viewing area
• Private 5000 acre game concession
• Bordering Hwange National park with easy access via the Ngamo gate only 15minutes away.
• Emphasis on good licensed game guides (walking is available)
• Emphasis on tailor made activities tailored to suit your requirements
• Good value fully inclusive rate, considerably cheaper than some of the other luxury camps
• Visits to local school and villages, empowering and uplift the local community
• Sister lodges in Victoria Falls for great package deals
PRICE before special offers
Approximate price per person sharing per night


US$ 550 (Tent or Suite) January to December
US$ 550 (Bungalow) January to December
US$ 620 (Sable suite) January to December

Special reduced rates 1 January to 30 April

US$ 580 (Tent or Suite) January to December
US$ 580 (Bungalow) January to December
US$ 650 (Sable suite) January to December

Special reduced rates 1 January to 30 April
Accommodation at Bomani Tented Lodge
• 10 tents
• "Sadlebill Suites" - 5 tents on raised teak platforms, 5ft above ground overlooking the plains – 3 Deluxe Twin tents and 2 Deluxe Double tents, all with standing fans.
• "Spurwing Suites" - 4 suites at ground level with ceiling fans lounge and veranda, overlooking the lodge and waterhole – 1 Honeymoon Suite with king size bed; 2 Twin Suites with twin double beds and space for an extra bed for children; 1 Double Suite with king size bed.
• "Royal Suite" 1 thatched family bungalow with queen size bed, air conditioned and has private veranda, on ground level with view of the lodge and waterhole. TV on request.
• 1 Sable Suite (Family Suite): Tented structure built on a raised wood deck composed of four sections. Two bedrooms, one with a kingsize bed and the other with twin three-quarter beds (these beds can be pushed together to make a kingsize bed). The suite is completed with a dining and lounge area with a veranda deck and views across the plains (2 extra three-quarter beds can be placed in the lounge area so the family suite can accommodate 6 pax).
All rooms have:
• En-suite bathroom
• Either ceiling or standing fan
• Mosquito repellent
• Electronic safe
• Emergency whistle
• Mobile lamp
• Built-in cupboards for extra storage
Advantages
• Private 5000 acre reserve means no other vehicles
• Borders on the Hwange National Park – easy access
• Private, remote and unspoilt open savannahs. Great game viewing
• Private hide for an unforgettable experience
• Best value camp with fully inclusive rate considerably cheaper than other camps without compromising on the safari experience
• Airstrip at camp for fly ins
• Partner with sister lodges in Victoria Falls. Contact us to arrange a full safari itinerary for you.
Disadvantages
• Distance by road transfer
• Cost of road transfer to halfway house
• Cuisine good but not fine dining
• National park fees not included in non-package rate
Dining
• 3 meals are provided and local beverages, inclusive of the rate
• Picnic lunches, teas, drinks and snacks are provided during game drives and pump runs
• Private dining on lodge verandas available on request
Facilities and Services
• Plunge pool
• Electricity by generator
• Wireless internet in the main lodge area
• Main lodge with viewing deck, bar, lounge and dining room
• Laundry service
• Activities:
• Morning and afternoon game drives
• Game walks
• Night drives
• Game viewing blinds
• All day drives and pump runs
• Village visits and school tours
• Rail transfer on the Elephant Express to and from Bomani (surcharge)
Fully Inclusive Rates Include
• Accommodation
• All meals, soft drinks, wines and local spirits
• Laundry
• Road and air transfers from Halfway House or Bomani Airstrip
• Lodge activities
• Use of a driver or guide on safari
Rates Exclude
• Horseback safaris
• Imported beverages
• National Park entrance fees
Children
• Up to 2 children may share a suite with an adult
• Children under 7 are allowed only by special arrangement
How to Get to Bomani Tented Lodge
• You can take a 1hour small plane charter from Victoria Falls Airport to the airstrip (with prior arrangement)
• A four hour road transfer can be arranged from Victoria Falls or from Bulawayo
• Transfers to halfway house which is halfway between Victoria Falls and Bulawayo (225kms) are not included in the non-package Bomani Tented Lodge rate but can be easily arranged for you (contact us)
• The transfers from halfway house to Bomani camp (1.5hrs) or from the airstrip are included in the Bomani rates
• You can take a road transfer to Impofu Siding (near the Main Camp) and then take a rail transfer from there to Ngamo Siding aboard the Elephant Express. A 15- to 20-minute ride in a game vehicle will take you to Bomani Tented Lodge.
THE VIC FALLS BUSH TELEGRAPH
our Bi-Monthly E-Newsletter

Each issue has a destination update, loads of information about conservation and wildlife, specials offers, traveller tips, community projects, website highlights and tons more...

Find out more about our Bush Telegraph

"Your newsletter keeps me informed about new and old and is the best I've seen in a long while - informative, not commercial, just plain perfect!" - I.Skliros

Don't worry. Your e-mail address is totally secure. I promise to use it only to send you The Vic Falls Bush Telegraph.
Return from Bomani Tented Lodge to our Victoria Falls home page