The Hide Facts and General Information
The Hide in Hwange National Park is an exclusive safari camp. Positioned in its own private concession right on the boundary of the National Park. The whole camp including the bedrooms overlook a waterhole, well used by wildlife.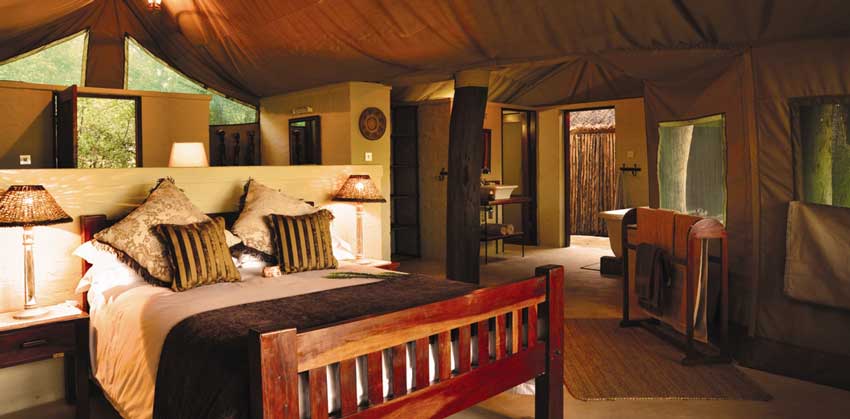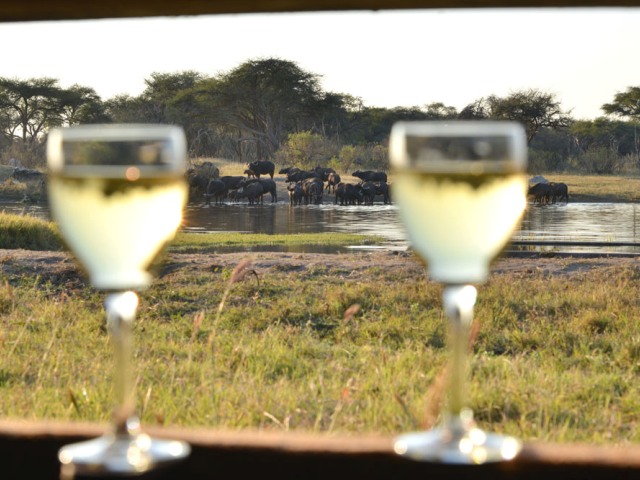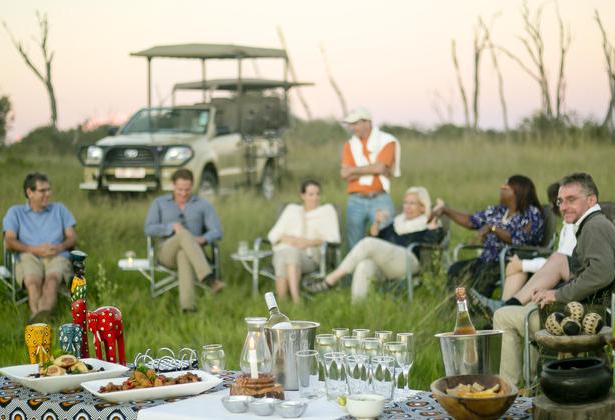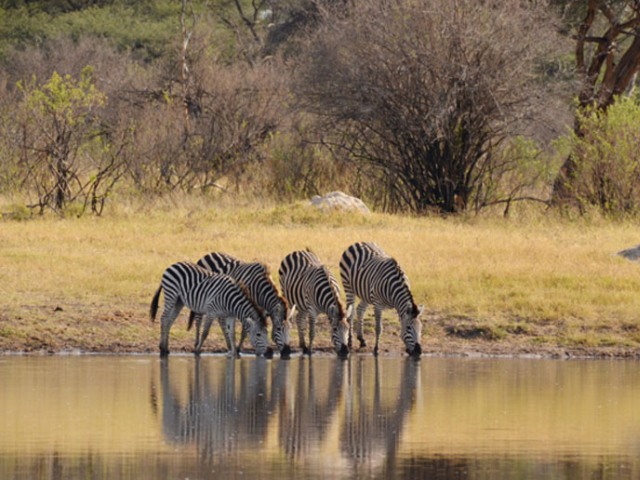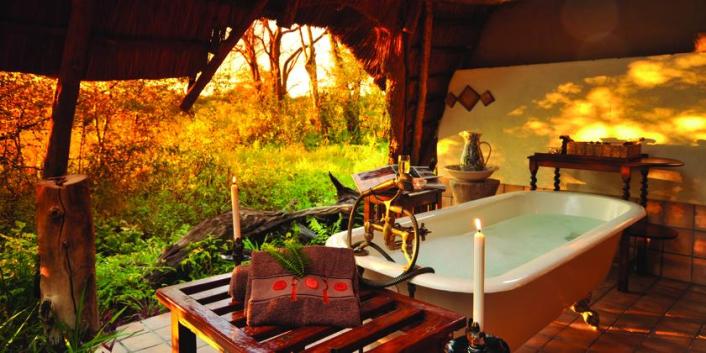 General Information
The Hide has been consistently voted "Best Tented Safari Camp in Zimbabwe" on 10 occasions since 1995. Situated on the Eastern Boundary of Hwange National Park in a five square kilometre area, it is one of the few camps in the National Park itself.
Unlike other camps in the area, long drives from Camp to the Park are not necessary as we are in reality, a part of the Park itself, and the wildlife migration on our private concession is second to none.
The Camp was opened in 1992 and has undergone a few major refurbishments since opening. Our aim is "To offer The Ultimate Wildlife Experience in Zimbabwe". The Hide features in the book "1000 Places to See Before You Die – A Traveller's Life List". The Hide is a proud Founder Member of Classic Safari Camps of Africa.
How to Get to The Hide
By Air: The easies way to get to The Hide is to fly into Victoria Falls Airport, and then charter to Hwange Airport or Umtshibi Airstrip. If you're staying for a minimum of three nights, a complimentary transfer from Main Camp, the airport and the airstrip will get you to camp. Most guests fly into Victoria Falls Airport and then take the two-hour road transfer to Hwange Main Camp where you are met by a Hide representative. The Hide is a little over an hours drive from Hwange Airport or one hour from Hwange Main Camp. The transfers are conducted through the National Park and are a glorified game drive for our Guests. Currently no scheduled flights fly into Hwange Airport but charter flights can be arranged.
Self- Drive: Guests can also opt to self-drive into Camp in their own 4WD vehicles.
Accommodation at The Hide
The Hide has 10 tented rooms with a maximum of 20 Guests. The Tents are large East African style luxury tents under thatch, all overlooking the main waterhole. Each tent has its own en suite bathroom, consisting of shower, hand basin and flush toilet along with a small teak dressing table, and most importantly, piping hot water at night and in the mornings.
The spacious bedroom areas are very tastefully furnished with solid Zimbabwe Teak furniture each with individual decor themes e.g. Leopard, Out of Africa, and Hippo. We have 7 twin-bedded and 1 Double tent and 2 Honeymoon Suites. The Honeymoon suites have additional outside baths where guests can relax in a bath and enjoy the stunning view over the waterhole.
The hub of the Camp is our majestic "A" Frame which houses the dining room and sun lounge downstairs and a large comfortable lounge and viewing area upstairs. Meals are served in unsurpassed elegance and style around our magnificent 22-seater teak dining room table - our candlelit dinners are an experience to be treasured!
The Hide has undergone 5 major renovations since it's inception in 1992, with the most recent being completed in 2018. The Tents have a myriad of different configurations. Some have indoor bathtubs, others have outdoor bathtubs. Some have indoor showers, but all have outdoor showers.
Activities
Activities at The Hide are varied and they offer a full day of Game Viewing in one form or another.
A typical day at the Camp is along the following lines: -
Game Drives before and after breakfast, both on the Concession and in the National Park – on request these drives can be stretched out to include a picnic breakfast or lunch at one of the excellent waterholes which occur within a maximum of 25 kilometres from the Camp – some as near as 3km away.
Traffic in areas utilised by us, for the most part, is very light and therefore congestion at waterholes seldom occurs. Early morning or late afternoon walks on the Concession with Professional Guides is an excellent opportunity to learn about the bush and its flora and fauna in general and a large variety of animals can be encountered on these walks.
The Professional Guides are trained to an extremely high standard in Zimbabwe (often regarded as the best in Africa) and regardless of the amount of game seen, these walks are made into a memorable and highly informative occasion.
A full English breakfast is served at about 8.00am and slightly earlier in winter, and morning activities commence thereafter. Throughout the morning Game drives are available, or guests may wish to relax in our comfortable underground game-viewing Hides.
These are situated at the edge of the camp's waterhole, offering a photographer's paradise. We have gained the exclusive use of several superb walking areas in the National Park itself which makes the combination of game drives and walks a popular choice.
Lunch is served at approximately 1pm after which is siesta time. Guests re-group again at about 3.30pm upstairs in the "A-Frame" for tea.
Afternoon drives follow and walks can also be arranged or else just relax on your veranda and watch the wildlife come down to the waterhole for their evening drink. This is an excellent time to be in the underground Hides too, or game viewing from upstairs in the main A-frame, which overlooks a huge grassland corridor through which the movement of game is superb.
The Dove's Nest is also available as an activity whereby guests may spend a night-out away from Camp. It is a five-minute drive from Camp and the guests are dropped off after dinner with drinks, given radios so they are able to contact Camp and normally collected on their request before breakfast. The Dove's Nest is very secure and there is a toilet and shower there.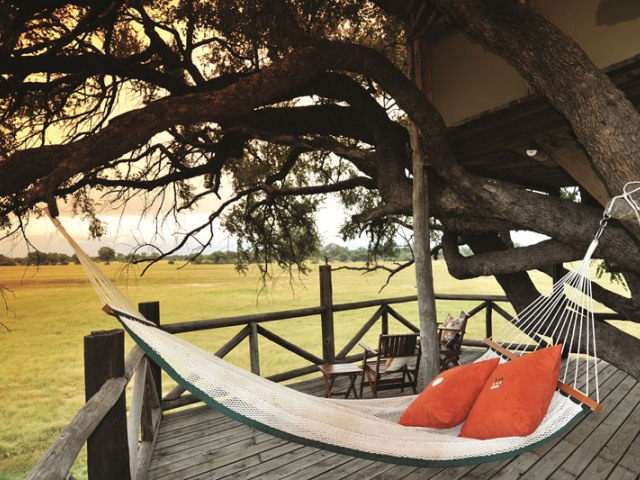 The Dove's Nest
Most afternoon drives will end with sundowners on the Concession. These activities all end at approximately 7.00pm – time for hot showers and then evening drinks and snacks around a campfire in winter and in the open under a canopy of stars in summer.
At this time wildlife can frequently be seen at the waterhole, which is illuminated by powerful arc lights.
Dinner is served at about 8.00pm. After dinner, guests have the opportunity of going on a night drive lasting 30 minutes to an hour on which spotlights are used to find nocturnal animals such as Bat-Eared Fox, porcupine and Genet cat, and hopefully Lion, Leopard and Hyena. This can be a most interesting and exciting drive – on occasions up to 15 species have been spotted.
By 10.00pm, after a very full day, most people are more than ready for a restful night's sleep. We have an extremely wide variety of species including the "Big Five" on our concession all year round and most can be seen at our waterhole from the comfort of your own tent.
The bird life in Hwange is excellent (over 400 species recorded) with brilliant chances of photography out in the open or in the underground Hide at the Camp waterhole.
The Hide Facts Sheet
Hwange NP is the 3rd largest park in Africa; at 14,600 sq. km half the size of Belgium!

Weather – Summer is from October to March and winter (cool/dry season) from May to August. Being on the edge of the Kalahari the days are invariably warm but the nights and early mornings can get very cold.

Rainfall – One main rainy season November to March but actual rainfall is variable and the last two years most rain fell in January – March period. Average rainfall 620mm (25 inches)

Temperature – Average monthly max. Temps. Are 24C in June to 33C in October.

Is there a best time to visit and if so why–

July – October are the peak game-viewing months when the bushveld is driest and therefore the greatest number of animals congregating around the pans.

However the Green Season (Jan-May) is incredibly beautiful with all the new birthed animals and the birdlife especially prolific. April to June are cooler than the rainy season November to March. Victoria Falls is best in the Green Season.

Location – Situated on the Eastern Boundary of the famous Hwange National Park in a 5 square km. area, it is one of the few camps in the National Park itself.

Access – The Hide transfers clients from Hwange Main Camp (1 hour through NP so in reality a game drive!). Road transfers from Vic Falls airport only 2 hours. Private air charters can be arranged into Hwange Airport.

Type of accommodation –

Luxury East African tent with en suite shower, hand basin and w.c. The whole tent is under thatch and also insect-proofed. Tasteful teak furniture has been used and all 10 tents look onto the waterhole and have their own patio with chairs.

Activities/excursions offered –

· Morning or evening guided walks

· Morning & afternoon Game drives

· Night drives with spotlight

· Underground hides around pans

· Bush breakfasts

· Dove's Nest overnight sleep-over

Park Fees – US$15-20 per person per day (payable in cash at camp as per Zimbabwe regulations)

Property closure period – Open Year Round

Child policy – General policy no children under 10 yrs. However other arrangements can be made by prior management approval depending on other guests in camp or block-booking the camp.

Triple policy – N/A

Group/ tour-leader policy – For any group of 10 paying pax, one tour leader standard accommodation free.

Cancellation policy – Normal cancellation policy as follows:

· Cancellations only effective by receipt of written notification

· 4 – 8 weeks notice, deposit forfeited (20%)

· 2 – 4 weeks notice, 50% of booking price

· Less than 2 weeks notice – 75% of booking price

· Peak Months Jul-Oct and December the right is reserved to charge 100% on any bookings cancelled 3 weeks prior to arrival.

Unique Selling Points –

· Hide is one of few camps actually inside Hwange NP affording spectacular year-round game viewing.

· 2 underground hides overlooking pan offer incredible close encounters with animals inc. elephant

· Bush breakfasts & overnight stays in the Dove's Nest available.

· Hwange NP has second highest diversity of mammals of any NP in the world – 108 species.

· Over 400 recorded species of birds

Famous for elephant sightings – Hwange has 25,000+ elephant
Number of rooms

10

Maximum Guests

16 (Groups 20 pax)

* Children

No under 10 yrs

Triples

No

Accommodation

7 Twin, 1 Double, 2 Suites

Air-conditioning/Heating

No

Room Fans

Yes

Malaria Area

Mosquito Nets

Malaria Area yes but very low risk – tent is mosquito-proofed.

Lodge Pool

Yes

Indoor Showers

Yes

Outdoor Showers

Only one of the suites

Separate w.c.

Yes

In Room Safe

No (manager's safe used)

Personal Bars

No

Telephone

Yes but not in rooms

Hairdryers

Manager has guest hair dryers. Plug points in tents

Laundry

Yes

Outdoor dining area

Yes

Suitable for disabled guests

Yes – One Room

Distance between Rooms

10 metres

Check In

12h00

Check Out

11h00

Airstrip

Co-ordinates

N/A

Length/service of airstrip

Umtshibi Airfield is 40 minutes away; Hwange Main Airport is 1 hour 30 minutes from camp

Catering for special

Dietary requirements

Yes

Power

220v AC

Private 4x4 safari vehicle

Yes - By prior arrangement with management

Babysitting

Yes – on special request depending on no. of guests in camp

Credit Cards

No – bank transfer or cash prefered
THE VIC FALLS BUSH TELEGRAPH
our Bi-Monthly E-Newsletter

Each issue has a destination update, loads of information about conservation and wildlife, specials offers, traveller tips, community projects, website highlights and tons more...

Find out more about our Bush Telegraph

"Your newsletter keeps me informed about new and old and is the best I've seen in a long while - informative, not commercial, just plain perfect!" - I.Skliros

Don't worry. Your e-mail address is totally secure. I promise to use it only to send you The Vic Falls Bush Telegraph.
Return from The Hide Facts page to our Victoria Falls home page