Home | Zimbabwe Safari Ideas | IB7A - Kariba & Victoria Falls
Zimbabwe Safari IB7A
7 Nights in blissful Kariba and wonderfully exciting Victoria Falls
4 Nights Lake Kariba's Matusadona National Park
3 Nights Victoria Falls, Zimbabwe
8 Days / 7 Nights
Reference: IB-7A
Starts Kariba Airport / Ends Victoria Falls Airport
Total Price 5 nights: US$962 (high season) / US$887 (low season) per person sharing


Safari Overview
Surround yourself with the beauty of Lake Kariba on Spurwing Island, minutes away from the Matusadona mountains and Sanyati River Gorge. Then enjoy a few days in Victoria Falls, staying at a comfy bed and breakfast lodge in the quiet part of town, less than 4kms from the Victoria Falls themselves.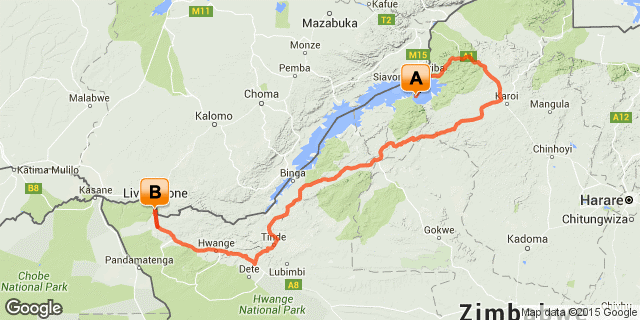 Zimbabwe Safari IB7A Inspired Journey Overview
Accommodation
Nights 1 to 4 - Chalet at Spurwing Island
Nights 5 to 7 - Standard Double Room at Lorries B & B
Transfers Included
Day 1 - Road transfer: Kariba Airport to Marineland Harbour
Day 1 - Boat transfer: Marineland Harbour to Spurwing Island Lodge
Day 5 - Boat transfer: Spurwing Island to Marineland Harbour
Day 5 - Road transfer: Marineland Harbour to Kariba Airport
Day 5 - Road transfer: Victoria Falls Airport to Lorries B & B
Day 8 - Road transfer: Lorries B & B to Victoria Falls Airport
Flights Excluded
Day 1 - Flight: Harare Airport to Kariba Airport
Day 8 - Flight: Kariba Airport to Victoria Falls Airport
Highlights
Beautiful scenes Lake Kariba and the Matusadona Hills
Enjoy game drives and boat cruises around the lake, plus fishing, walking safaris and exciting trips to Sanyati Gorge
View the spectacular and mighty Victoria Falls
Partake in the multitude of activities available at Victoria Falls from sedate sunset cruises to adrenaline crazy bungee jumping and everything in between
---
Matusadona National Park
Matusadona National Park is situated on the shores of Lake Kariba but was proclaimed a non-hunting area on 7 November 1958 before the dam was built.
It became a Game Reserve in 1963, and in 1975, in terms of the Parks & Wildlife Act, it became a National Park. The Park comprises some 1 400 square kilometres of diverse flora and fauna. Before the lake was built, Matusadona was a vast, rugged wilderness with limited access.
With the lake came ecological changes. One in particular, the lakeshore contributed greatly to the increase of large mammal populations in the area, especially elephant and buffalo. The grass found on the shoreline is Panicum repens and is a rejuvenative grass - needing only fluctuating lake levels to replenish its nutrients. With this ready food source, buffalo, waterbuck, zebra, and even impala have thrived and with them the predators. Matusadona is an Intensive Protection Zone (IPZ) and home to several relocated rhinoceros.
Overnight: Spurwing Island Lodge
Situated in the Matusadona National Park, Spurwing Island offers a range of different activities including scenic boat trips and game viewing on foot, by boat or game vehicle. The park boasts a large population of wildlife and bird life, making it a photographer's paradise!
Notes: Day 1, 2 & 3
DAY 1
Fly from Harare Airport to Kariba airport (flights excluded) where you will be met by one of our representatives who will transfer you by vehicle to Marineland harbour. Here your boat awaits you to speed you across the lake to Spurwing island (approximately 1 hr) which is a beautiful experience in itself. Arriving by early afternoon you will have plenty of time to relax and soak up the wonderful views or partake in one of the fabulous activities on offer.
DAY 2 to 4
Activities are not included in the price of this package but there is a wide variety of wonderful activities on offer which you can arrange with the lodge managers once you are there. Please see details on them below.
Activities Info
Fishing
Fishing is a popular sport at Kariba and Spurwing Island offers tackle and an experienced coxswain for those who want to try their hand. Fishing trips are offered on a half day basis – departing early morning arriving back in time for lunch, or alternatively departing after lunch arriving back just after sunset.
The Tiger Fish, a fierce fighting fresh-water game fish, offers a thrill to those who manage to land them. The Kariba Bream, which is an excellent eating fish, is a challenge to the keen fisherman.
The Spurwing Chefs are renowned for their preparation of your catch – if requested. We also offer a facility for the fish to be frozen to take home. Own boaters can bring their boat to Spurwing Harbour where their boats will be cleaned and looked after by our Spurwing staff. Packed lunches/drinks can be organised for the day. Not included is the cost of fuel used and the drinks.
Game Cruises
This is game viewing along the shoreline by speed boat or covered pontoon. Game viewing from the water adds a whole new experience to the guest's safari. Unique to Kariba is its forest of 'dead' trees which is home to a wide variety of nesting and roosting birds. Mid-morning cruises allow the guests to encounter elephants bathing at the water's edge, watch game coming down for a drink, and see crocodiles basking in the sun.
Afternoon cruises will meet game coming down to the shoreline for a refreshing drink after the mid-day heat. Guests relax with a sun downer whilst watching the spectacular Kariba sunset casting eerie shadows in orange and purple hues across the lake.
Game Drives
Our Game Drives are conducted in purpose-built comfortable Land Rovers. Each vehicle can take 7 guests. The game drives leave from Spurwing Island by boat – which transfers the guests to the Matusadona National Park mainland where they then board the vehicles for the game drive.
Walking Safaris
These Walking Safaris are led by a Professional Guide within the Matusadona National Park. The walk can take a maximum of six guests. No children under 16 are allowed on the walks.
The walks leave from Spurwing Island by boat – which transfers the guests to the Matusadona National Park mainland where they then either board a vehicle and drive to where they will start the walk, or boat to a starting point for the walk. The walking safari provides an opportunity to study nature at "grassroots level" whether it is an interesting insect, plant, tree, bird, spoor, or a close encounter with wildlife.
Sanyati Gorge Scenic Safari
This is a scenic trip up the Sanyati River Gorge by speed boat. The river is navigable for about 10 km. The Sanyati Gorge, which is directly opposite Spurwing Island, cuts into the Matusadona mountains providing its own dramatic landscape. During the rainy season waterfalls flow in abundance along the course of the gorge - bird life is prolific and some rarities may be seen including the Black Eagle and African Finfoot.
---
Victoria Falls
One of the original natural wonders of the world, the Victoria Falls is a World Heritage Site and an extremely popular tourism attraction. Known locally as 'The Smoke that Thunders', this spectacle is accessible from both Zambia and Zimbabwe and it is an ideal place to combine a game viewing and water sports. There is excellent fishing, a terrifying bungee jump and arguably the best commercial white water rafting in the world.
Overnight: Lorries B & B
Lorrie B&B is family run with the focus on personal attention to detail and guest satisfaction. Lorries B&B is a short walk from the mighty Victoria Falls and all that this Amazing destination has to offer. All rooms are well appointed en-suite with own verandas set in a quiet tropical garden. Recently converted to Solar Geysers and Air Conditioning available in all rooms on request .
Notes: Day 5, 6, 7 & 8
DAY 5
After a hearty breakfast you will be transferred by speed boat back to Marineland harbour. Our representative will meet you and transfer you by vehicle to Kariba Airport for your connecting flight to Victoria Falls (approximately 1hr 20 minutes) (not included). At Victoria Falls Airport, you will be meet by a member of our team and taken to Lorries Bed & Breakfast Lodge in Victoria Falls town, arriving early afternoon if the flights are on time. This gives you time to settle in or do one of the multitude of activities on offer. Although activities are not included in the package price, please let us help you to arrange an itinerary of activities suitable for you. Have a look at this page Victoria Falls activities to see what is on offer.
DAY 6 & 7
Victoria Falls is the adventure capital of Africa and there are activities on offer to cater for everyone's needs. Please have a look at the Victoria Falls Activities and contact us to arrange a suitable itinerary just for you.
DAY 8
This is the final day of your tour. After breakfast, you have time to squeeze in one more activity if you wish and then you will be picked up mid-morning and transferred to Victoria Falls Airport for your onward flight.
---
Price
Total Price for 7 Nights: US$962 (high season) / US$887 (low season)
Per person sharing
Included in this safari
SPURWING ISLAND
• Accommodation in a chalet
• Morning tea, full breakfast, two course lunch, afternoon tea and four course dinner each day
LORRIES B&B
• Accommodation in a comfortable standard room
• Daily breakfast
TRANSFERS
• Return road transfers Kariba airport to Marineland Harbour
• Return boat transfers to Spurwing Island
• Return Victoria Falls Airport Transfers
Excluded
• All national park fees to be paid on site
• Activities
• Flights
More Travel Information
Can't find what you are looking for? Use Google Search to search this site for any term you are looking for..


Share with others!
Return from Zimbabwe Safari IB7A page to our home page