Home | Safari Ideas | Zimbabwe Safari IS5E - Hwange National Park & Victoria Falls
Zimbabwe Safari IS5E
5 Nights combining a remote part of Hwange National Park and amazing Victoria Falls
3 Nights Hwange National Park
2 Nights Victoria Falls, Zimbabwe
6 Days / 5 Nights
Reference: IS-5E
Starts Victoria Falls Airport / Ends Victoria Falls Airport
Total Price 5 nights: US$2198 (High season) / US$1602 (Low Season) per person sharing


Safari Overview
Perfect combination of an Authentic Safari Experience and a "Natural Wonder of the World". The first 3 nights are spent at Nehimba Lodge which hides deep inside a private concession in the remote northern region of Hwange National Park. This Lodge is designed to create the most exceptional safari experiences. A wild and unspoilt bush paradise Nehimba guarantees to leave you with memories that will last a lifetime!
Spend the next 2 nights in a quiet, unique and family run bed and breakfast lodge, less than 4kms from the Falls themselves. An afternoon, 1 full day and another morning allows enough time for you to enjoy some of the endless activities available in Victoria Falls.
Zimbabwe Safari IS5E Inspired Journey Overview
Accommodation
Nights 1 to 3 - Elevated thatched chalet at Nehimba Lodge
Nights 4 to 5 - Executive double room at Bayete Guest Lodge
Transfers Included
Day 1 - Road Transfer: Victoria Falls Airport to Nehimba Lodge
Day 4 - Road Transfer: Nehimba Lodge to Bayete Guest Lodge
Day 6 - Road Transfer: Bayete Guest Lodge to Victoria Falls Airport
Highlights
Excellent Game viewing on a premier game concession in Hwange National Park
Lots of available game activites at Nehimba - drives, walking, hides sits and night drives
Highly knowledgable, professionally licenced Guides that will enhance your overall safari experience
View the spectacular and mighty Victoria Falls
Partake in the multitude of activities available at Victoria Falls from sedate sunset cruises to adrenaline crazy bungee jumping and everything in between
---
Hwange National Park
Hwange National Park is Zimbabwe's biggest reserve, home to a profusion of wildlife, including giraffe, lion, zebra and approximately 40 000 elephants. It provides sanctuary for all the country's endangered species, including a population of wild dogs thought to be among the most sizeable surviving groups on the continent. Terrain ranges from desert dunes and savannah lands to rocky outcrops and sparse forests, and visitors have the choice of game drives, guided walks or horseback safaris as a means of experiencing the park and its creatures.
Overnight: Nehimba Lodge
Nehimba is a luxury safari Lodge remotely nestled away in one of the largest private concessions in the renowned Hwange National Park. Ideally situated in the central game rich section of the park, offering an all-inclusive, privately guided authentic African Safaris.
In the centre of the lodge is the spacious and tastefully decorated lounge / dining area comprising a lower deck for intimate and romantic meals under the stars, overlooking a swimming pool frequented by elephants trying to quench their thirst. Evenings can be spent around a warm fire where tales of the day's events are unravelled while the chef prepares a tasteful array of dishes.
Nehimba Lodge boasts seven luxurious raised chalets under traditional thatch unobtrusively positioned around a waterhole. Each chalet has its own en-suite slipper bath and adjoining outside shower.
Decor is subtle yet elegant, furnishings are soft, cosy and tasteful. The rooms are designed to be spacious, airy, intimate and safe. Each chalet has its own private balcony that allows an un-obscured view of the waterhole and its thirsty visitors.
Notes: Day 1, 2 & 3
DAY 1
Upon arrival to Victoria Falls Airport, you will be met by one of our representatives and transferred by air-conditioned minibus to Mbala Gate on the Hwange National Park boundary which takes about 90 minutes. From here a Nehimba safari vehicle will transfer you into camp which takes a further 2 hours through the National Park so it is a game drive in itself.
DAY 2
No two days are the same at Nehimba and game viewing experiences are tailor-made to guest's preferences, including game drives, walking safaris and night game drives on the private concession in search of nocturnal species of wildlife. Whether you choose to track a herd of elephant on foot with your highly trained guide at dawn or spend the afternoon relaxing overlooking the waterhole on the deck by the pool, this wild and unspoilt bush paradise will guarantee you leave with memories to last a lifetime!
DAY 3
More game viewing activities at Nehimba, tailor made to suit your needs and influenced by what the wildlife at the time of your visit are doing.
Activities Info
At the Lodge
Nehimba is situated on its own private concession in the Northern area of the national park where many of Hwange's wild residents enjoy wandering freely through the area. You may choose to relax on your private balcony with an early morning cup of coffee, or whittle away the last of the daylight hours on the main lodge deck with sundowners, where the animals amble by and pause at the nearby waterhole to quench their thirst.
Game Drives
Nehimba is situated right on the edge of the mopane woodlands of northern Hwange and the Kalahari sandveld of the west, and so offers the full spectrum and diversity of fauna that Hwange has to offer. The elephant hunting Lions of this area are famous. The area is well watered so is host to large numbers of animals throughout the year but particularly during the dry season. Game drives are conducted in specially modified Land rovers designed to provide wildlife enthusiasts with ideal opportunities for photography. During drives, our expert guides enjoy sharing their extensive knowledge with you - be it while watching the African bush come to life as the sun starts to rise, or whilst marvelling at a large elephant herd drinking at a waterhole as the sun slips behind the horizon.
Game Walks
For an entirely different perspective, join one of our armed professional guides and get close to nature. During a game walk you can experience the thrill of approaching wildlife on foot. Your guide will also teach you the basics of how to track wildlife from the ground as well as interesting facts about the surrounding vegetation and ecology.
Night Drives
For those who would like to view Hwange in a different 'light', we offer our guests the opportunity to accompany one of our guides on a night drive through our concession. Filtered spotlights are used to pick out the various nocturnal species that can be found such as hyena, porcupines, civets, genet cats, and if you're lucky, perhaps even a leopard on hunt!
The Nehimba Hide
Situated close to camp, this lovely platform is the perfect spot to marvel at the splendour of an African sunset, providing the perfect backdrop to the abundance of wildlife that sip and slurp at the nearby water hole.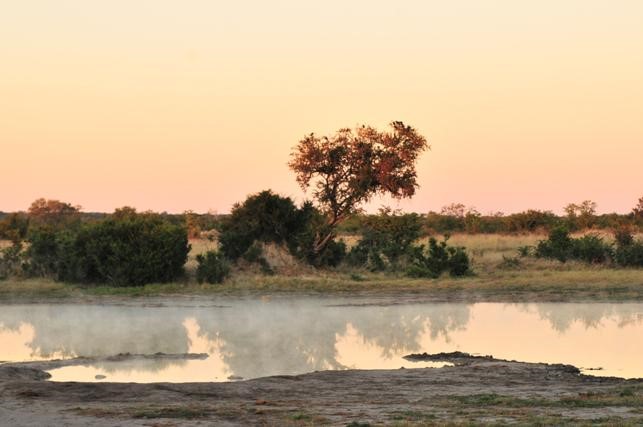 Visit The Nehimba Seep
This special designated conservation area is one of the only year-round, naturally occurring water supplies in the massive Hwange National Park. The seep is an ancient source of surface water that was once used by the San Bushmen. Today the area is frequented by elephant, who can be found digging for minerals as well as enjoying the water.
Visit Mandavu Dam
Situated in a scenic hilly spot only 15-kilometres from Sinamatella Camp, the Mandavu Dam is a wonderful location for both bird watching and game viewing. Take a leisurely morning drive to the dam before joining a variety of wildlife for a picturesque picnic brunch at the water's edge.
Visit Mtoa Ruins
Mtoa Ruins are approximately a 2-hour drive from camp, and are well worth the journey! These ancient ruins are located on top of a low granite kopje and offer excellent views of the surrounding countryside. Enjoy a packed lunch at this ancient site before a meandering afternoon game drive from waterhole to waterhole back to Camp.
---
Victoria Falls
One of the original natural wonders of the world, the Victoria Falls is a World Heritage Site and an extremely popular tourism attraction. Known locally as 'The Smoke that Thunders', this spectacle is accessible from both Zambia and Zimbabwe and it is an ideal place to combine a game viewing and water sports. There is excellent fishing, a terrifying bungee jump and arguably the best commercial white water rafting in the world.
Overnight: Bayete Guest Lodge
Bayete Guest Lodge offers comfortable and affordable accommodation and is situated in the heart of the Victoria Falls Residential Area. The lodge is 2 km away from the Victoria Falls rainforest and 22 km from the airport. Recently renovated, this family run lodge has 25 rooms which are set in a lush tropical garden. Central to the lodge is the large tear drop pool which is hugged by the Caldecott Boma and Ngwezi Tavern. Breakfast is served in the Caldecott Boma every day. Lunch and dinner are also available on special request and are delicious home cooked meals. Buffets and BBQ's are available for group bookings or by special request.
Notes: Day 4, 5 & 6
DAY 4
After a possible early morning game drive and breakfast, a Nehimba Safari vehicle will transfer you back to Mbala gate, where you will once again be met by our representative in an air-conditioned mini bus for transfer to Bayete Lodge in Victoria Falls. You will be there by lunchtime and are free to relax by the pool or go on one of the many activities available in Victoria Falls.
DAY 5
There are no scheduled or planned activities during your stay in Victoria Falls. We are more than happy to discuss with you what is available and put together an itinerary that suits your requirements. You can see what Victoria Falls activities are available on our Activities page and let us know what we can arrange for you.
DAY 6
Most international flights depart around lunchtime, so there is time on your final morning to do another activity if you wish. Your airport transfer will collect you from Bayete Lodge and take you to Victoria Falls Airport for your departure flight.
---
Price
Total for 5 Nights: US$2198 (High season) / US$1602 (Low Season)
Per person sharing
Included in this safari
NEHIMBA LODGE
• Accommodation
• All meals, soft drinks, beers, wines & local spirits
• Laundry
• Activities: Game walks, drives, all day excursions, hide sits and night drives, and service of a licensed guide on safari
• National Park entry fees per paying night
BAYETE GUEST LODGE
• Accommodation in an Executive en-suite room
• Daily breakfast
TRANSFERS
• Return road transfers between Hwange and Victoria Falls
• Return Victoria Falls Airport transfers
Excluded
• Premium wines and imported liquor
• Meals, drinks and activities other than those specified
• Telephone calls
• Gratuities
More Travel Information
Can't find what you are looking for? Use Google Search to search this site for any term you are looking for..


Share with others!
Return from Zimbabwe Safari IS5E page to our home page