Home | Zimbabwe Safari Ideas | IB7B - Hwange, Victoria Falls & Zambezi National Park
Zimbabwe Safari IB7B
7 Nights of budget and luxury safari in Hwange, Victoria Falls and the tranquil Zambezi National Park
3 nights Hwange National Park
3 nights Victoria Falls, Zimbabwe
1 night Zambezi National Park
8 Days / 7 Nights
Reference: IB-7B
Starts Victoria Falls Airport / Ends Victoria Falls Airport
Total Price 7 nights: US$1318 (high season) / US$1243 (low season) per person sharing



Safari Overview
Mixed budget and luxury accommodation in this safari, from a thatched chalet in Hwange National Park, to a bed and breakfast lodge just 3.5kms from Victoria Falls, and a private bush camp within Zambezi National Park. You get some the best of the Hwange-Victoria Falls area without breaking the bank.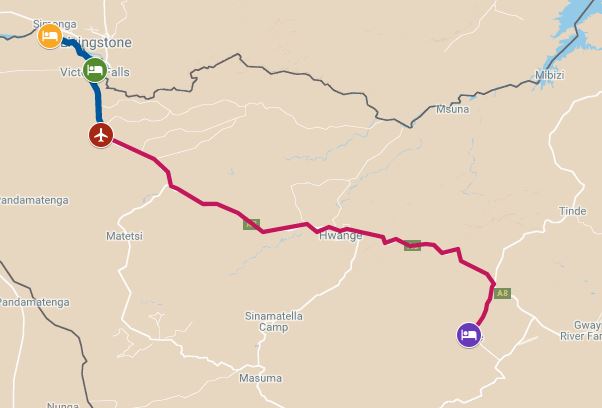 Zimbabwe Safari IB7B Inspired Journey Overview
Accommodation
Nights 1 to 3 - Thatched Chalet at Miombo Safari Camp
Nights 4 to 6 - Standard Double Room at Lorries B & B
Night 7 - Tented room at Pioneers Camp
Transfers Included
Day 1 - Road Transfer: Victoria Falls Airport to Miombo Safari Lodge
Day 4 - Road Transfer: Miombo Safari Lodge to Lorries B & B
Day 7 - Road Transfer: Lorries B & B to Pioneers Camp
Day 8 - Road Transfer: Pioneers Camp to Victoria Falls Airport
Highlights
Excellent game viewing in Hwange National Park
Visit to the Painted Dog Conservancy
View the spectacular and mighty Victoria Falls
Partake in the multitude of activities available at Victoria Falls from sedate sunset cruises to adrenaline crazy bungee jumping and everything in between
Semi-luxury tented lodge right on the banks of the Zambezi River with outstanding views
Activities available at Pioneers Camp include, game drives, boat cruises, canoeing, fishing and walking safaris
---
Hwange National Park
Hwange National Park is Zimbabwe's biggest reserve, home to a profusion of wildlife, including giraffe, lion, zebra and approximately 40 000 elephants. It provides sanctuary for all the country's endangered species, including a population of wild dogs thought to be among the most sizeable surviving groups on the continent. Terrain ranges from desert dunes and savannah lands to rocky outcrops and sparse forests, and visitors have the choice of game drives, guided walks or horseback safaris as a means of experiencing the park and its creatures.
Overnight: Miombo Safari Camp
Miombo Safari Camp bordering Hwange National Park offers a choice of rustic or deluxe accommodation and is ideally situated for day safaris into the national park. The area enjoys the highest concentration of wildlife and is famed for its large herds of elephant. Hwange's elephant population is estimated at 30,000. Miombo features four luxury tented tree houses and one honeymoon tented suite. Each suite is built to the highest quality with a world of comforts. Set in verdant Miombo woodland with our own waterhole providing you with the ultimate game viewing and birding experience at your doorstep.
Notes: Day 1, 2 & 3
DAY 1
You will be met at Victoria Falls International Airport by one of our representatives and transferred by air-conditioned minibus to Miombo Safari Camp near Hwange National Park. This is a 155km drive on the Vic Falls - Bulawayo tarred highway, arriving at Miombo in the early evening. After check in, you can relax with a sundowner and soak up the sights and sounds of Africa. Game frequents the waterhole in front of the lodge. You can go also go on a night game drive around the camps concession if you wish and then return for dinner.
DAY 2 & 3
Hwange offers some of the best wildlife sightings available in Africa without the congestion of numerous tourists. During the next two days you have the opportunity to experience the activities offered by the Miombo Camp and its guides, see details below of the activities available and arrange these with the lodge managers onsite to suit your individual needs. Two activities per day are included in this package. The days will end with an al fresco dinner at the safari lodge and drinks around the campfire.
Activities Info
Morning Game Drive
Equipped with camera, sun hat, binoculars & any specialist bird or animal guide books, you are ready to depart on morning game drive in a custom-designed safari vehicle in Hwange National Park with your assigned local professional safari guide, as the sun caresses the surrounding tree tops.
Hwange National Park proudly is home to a tremendous cross-section of wildlife; in fact with over 105 species of mammals, 430 species of birds - 50 species of those being raptors (birds of prey) & more than 100 species of trees & bushveld shrubs, it is amongst the most densely populated & diverse safari environments anywhere in the world. The close-by Dom waterhole is a prime game viewing area with massive game concentrations especially so in the dry season (late July to October) when a steady procession of all manner of mammals & birds congregate here throughout the day to quench their thirst.
So too the Ngwethla loop which passes the two magnificent open Kennedy pans that are particularly popular with a usual congregation of elephants found in this area. Nyamandhlovu Pan features a high-rise viewing platform located directly in front of a dam which is not only a draw card for all manner of mammal & bird species coming to drink here, but it is home to hippo & some not so small crocodile.
Afternoon Game Drive
Afternoon game drive commences with your choice of beverage & snacks mid-afternoon & it is once again, into Hwange National Park in search of new safari encounters. At an appropriate time & at an appropriate spot picked by your professional safari guide, just as the sun begins to sink on the western horizon, a stop will be made & traditional ´sundowner´ drinks will be served. This time is ´Out of Africa` personified.
Painted Dog Conservancy
The Painted Dog Conservation (PDC) is a leading model for community-based predator conservation, combining the most advanced modern technology with traditional knowledge of local communities, the PDC has experienced great success – Zimbabwe's African Wild Dog population has increased from 400 to 700 individuals since the project's inception. PDC's model also brings direct benefit to local people with increased employment & unparalleled education opportunities.
Residents of PDC's neighbouring communities not only benefit from its programs but also actively contribute to them. For example, community members are employed in anti-poaching units & in addition produce beautiful, unique art from the confiscated snare wire. They assist in systematic monitoring of the African Painted Dog population & teach environmental educational. The active engagement of local residents empowers communities, strengthens conservation & unreservedly raises environmental awareness.
Night Game Drives
Miombo Safari Lodge also offers our guest night game drives around the Miombo concession where you can experience the wild nocturnal activity. Guests can expect to see nocturnal game such as hyena, jackal, porcupine, civet, genet, white tail mongoose, & occasionally leopard & lion.
Walking & Birding Safaris
As well, during the day time guided nature walks & bird watching excursions on the Miombo concession can be tailor-made to suit individual couples, a family or an in-house group's abilities & desires.
Village Visits
Miombo Safari Camp can also arrange an excursion for guests to the Dete Village which exposes visitors to the village lifestyle & to learn about local traditions.
---
Victoria Falls
One of the original natural wonders of the world, the Victoria Falls is a World Heritage Site and an extremely popular tourism attraction. Known locally as 'The Smoke that Thunders', this spectacle is accessible from both Zambia and Zimbabwe and it is an ideal place to combine a game viewing and water sports. There is excellent fishing, a terrifying bungee jump and arguably the best commercial white water rafting in the world.
Overnight: Lorries B & B
Lorrie B&B is family run with the focus on personal attention to detail and guest satisfaction. Lorries B&B is a short walk from the mighty Victoria Falls and all that this amazing destination has to offer. All rooms are well appointed en-suite with own verandas set in a quiet tropical garden. Recently converted to Solar Geysers and Air Conditioning available in all rooms on request.
Notes: Day 4, 5 & 6
DAY 4
Today after breakfast and another early morning activity if you wish, you will be transferred by air-conditioned minibus from Miombo Safari Camp to Lorries B&B in Victoria Falls town arriving around midday. This gives you time to settle in and relax or do one of the multitude of activities on offer. Although these activities are not included in the package price, please let us help you to arrange an itinerary of activities suitable for you. Have a look at the page Victoria Falls activities to see what is on offer.
DAY 5 & 6
You have 2 full days to soak up the wonderful atmosphere of Victoria Falls, it is the adventure capital of Africa and there are activities on offer to cater for everyone's needs. View the mighty Falls, partake in the many activities on offer or wander around the streets to do a bit of curio shopping, then finish off at a café for refreshments and a bite to eat. Please have a look at the Victoria Falls Activities and contact us to arrange a suitable itinerary just for you.
---
Zambezi National Park
Zambezi National Park together with Victoria Falls National Park cover an area of 56,000 hectares. The northern border of the Park is formed by the great Zambezi River which also forms the border between Zimbabwe and Zambia for much of its length. A wide variety of larger mammals may be found within the Zambezi National Park including elephant, lion, buffalo and leopard. In addition, herds of sable antelope, eland, zebra, giraffe, kudu, waterbuck and impala as well as many of the smaller species of game can be viewed. The Zambezi River is home to over is 75 species of fish and is famous for its bream and fighting tiger fish.
Overnight: Pioneers Camp
Pioneers Camp is an intimate, beautifully appointed, tented camp. It is located inside the Zambezi National Park, on a lovely quiet stretch of Zambezi River shoreline with a natural spring-line, Mpala Jena, running through the site. This spring-line attracts an abundance of wildlife throughout the year. It's conveniently located close to Victoria Falls – for easy access – but far enough away from the hustle and bustle of the busy town.
This area has a healthy, and increasing, game count and with the Zambezi River along the park's boundary. There are many other activities available such as fishing, canoeing, sunset cruises as well as guided walking along the Mpala Jena spring line. It is so close to Vic Falls you can easily go into town to enjoy some 'adventure', a game of golf, high tea at the Vic Falls Hotel or anything equally decadent! In the park we will offer game drives, walking, bird-watching, and of course, 'river' activities too. The camp is open all year round.
Phase one of the camp includes six luxury tents, well-appointed and nestled under shady trees – each bragging breath-taking views of the river. There is a central dining and lounge area to mingle and relax in. The camp is eco-friendly, with modern solar lighting, solar geysers for showers, flushing toilets and efficient and correct waste disposal.
Meals are prepared from a selection of fresh produce, and are served either al fresco, or in our shady dining tent overlooking the river.
Notes: Day 7 & 8
DAY 7
After breakfast you will be picked up and transferred to Pioneers camps for the final section of your safari. Your journey starts with a game drive through the Zambezi National Park, which is only 25kms and takes roughly 1 hour. The drive, in places, takes you close to the river. You are likely to see a variety of game on your way, so have your bino's and camera ready! You will be in camp by mid-morning so you will have plenty of time to do the activities on offer (please see below for details), please arrange these with the lodge managers to suit your requirements. The emphasis for this camp is to get onto the Zambezi river, you can do this by either power boat or by canoe whichever you prefer.
After your afternoon activity have a nice hot shower (or cold if you prefer) and meet around the camp fire to relive the day's events and enjoy a drink with some snacks before dinner is served. After dinner, retire to your luxury tent and listen to the river as it lulls you to sleep.
DAY 8
Today is your final day but you have time, if you get up early, to do another game activity from the selection below. After breakfast you will be transferred to the Victoria Falls airport in time to catch your international flight.
Activities Info
Fishing
For the serious fisherman (or lady!) Pioneers will organise a dedicated boat and skipper so that you may enjoy a full day out on the river, for maximum fishing time! Meals, drinks etc will be coordinated – if you would prefer to stay out all day. Whilst they have a selection of fishing tackle and rods, you are recommended to bring your own if you plan to fish seriously when at the camp. (Fishing is not a scheduled activity as specific guides are brought in, therefore an additional cost is charged and pre-booking is necessary).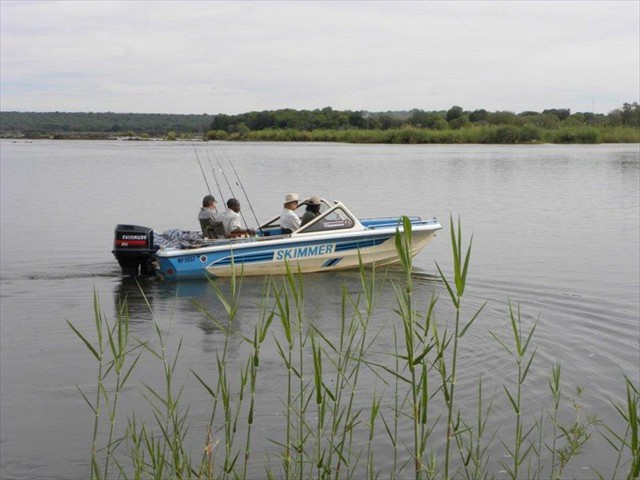 Walking Safaris
The Zambezi National Park offers a great many walks, following spring lines where game often congregates in the drier months, looking for both mammal and birdlife along the way. There is access to a number of fantastic Professional Walking Guides based in the area, and will happily set up a walking safari for you. (walking is not a scheduled activity as specific guides are brought in, therefore an additional cost is charged and pre-booking is necessary)
Walking safaris at Pioneers Camp
Canoeing
From the camp we operate half day and multi-day canoeing safaris in the camp's inflatable 'crocodiles' which are perfect for this stretch of the Zambezi River. Typically, you will be taken by vehicle upstream, and following a comprehensive briefing by your Canoeing Guide, the next few hours will be spent paddling downstream (or rather steering, as the gently flowing water current generally means little actual paddling is needed) – looking for game along the shoreline, as well as birds and just enjoying the scenery.
On some stretches of the river there are some small rapids, which are great fun - nothing serious like the White water rafting below the Falls, this is fun, easy stuff!
You will take a cooler box for drinks along the way, and of course you are provided with proper life-jackets and a full safety briefing before you get into the boats. The canoes are two-man inflatables, quite sturdy and are lightweight and very easy to paddle.
For this activity it is recommended that you wear shorts, sandals or closed shoes (for when you get out of the canoe), a hat and bring a kikoi or something to cover your legs etc if its gets too hot in the sun. As the game is generally active early mornings and late afternoons, canoeing is generally done at that time of day too.
Zambezi River Canoeing at Pioneers Camp
Game Drives
There are a good variety of game drive routes in this park – some along the river, some up the ridges to the teak forest. The terrain is varied and quite scenic. During your stay you may enjoy a variety of game drives, including the odd late evening drive with a spotlight, looking for nocturnal species coming out in the early evenings.
Game often seen in the area includes large herds of elephant, buffalo, plus zebra, giraffe, sable, warthog, porcupine, lion, leopard, impala, waterbuck and kudu to name but a few. The bird-life in the area is excellent, and if you are a keen birder – we recommend the summer months (Sept-April) as you may also get to see some of the migratory species passing through.
Boat Cruises
There are two boats moored at Pioneers Camp, and offer morning and afternoon-sunset boat cruises on the Zambezi – an incredibly relaxed way to enjoy this National park. Drinks and snacks are included and enjoyed along the way. Bring your binoculars, camera and a shady hat! If you feel like some fishing while on the cruise, organise some fishing rods and tackle at the camp.
---
Price
Total Price for 7 Nights: US$1318 (high season) / US$1243 (low season)
Per person sharing
Included in this safari
MIOMBO SAFARI CAMP
• Accommodation in a charming thatched rondavel
• All meals and local beverages
• Two safari activities per day
• Visit to the Painted Dog Centre
• Laundry
LORRIES B and B
• Accommodation in a comfy standard room with garden view
• Daily breakfast
PIONEERS CAMP
• Accommodation in a luxury safari tent
• All meals, snacks, local drinks including beers, wine, soft drinks and spirits, tea and coffee
• Scheduled activities
• Laundry
TRANSFERS
• Return road transfers between Hwange and Victoria Falls
• Return transfers between Vic Falls and Pioneers Camp
• Return Victoria Falls Airport transfers
Excluded
PARK FEES
• National Park fees at Miombo Safari Camp and Pioneers Camp
• Pioneers camp - Fishing and walking activities are additional, and must be pre-booked in advance
• Premium imported beverages
• Gratuities

More Travel Information
Can't find what you are looking for? Use Google Search to search this website for any term you are looking for.


Share with others!

The Vic Falls Bush Telegraph
our Free Quarterly E-Newsletter

Each quarter there's loads of information about conservation and wildlife, a destination update, specials offers and discount packages, traveller tips and stories, book reviews, African folktales, environmental reports, bush recipes, best photo competitions and tons more....

"Your newsletter keeps me informed about new and old and is the best I've seen in a long while - informative, not commercial, just plain perfect!" I.Skliros

This Quarter we are also giving away a Free Screensaver to Every New Subscriber.
Return from Zimbabwe Safari IB7B page to our home page